Want to rebuild in the NBA? In order to be good, you have to be bad.
It's no secret that the worst thing you can be in basketball is slightly above average. Teams easily fall into a trap of being playoff-caliber, but not good enough to actually contend for a title. That often leads to overspending to simply be competitive and those teams never fail enough to land quality draft picks.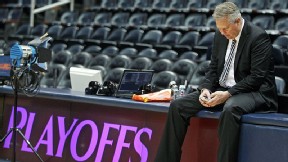 Jim Davis/Boston Globe/Getty Images
Could Danny Ainge clean house this summer?In the NBA, you have two options to building and sustaining a contender: Reload or rebuild -- and the latter means hitting rock bottom before you can climb again.
Which brings us to the Boston Celtics, fresh off a .500 season that saw them earn the seventh seed in a top-heavy Eastern Conference and get bounced from the first round of the playoffs by the new Atlantic Division kingpin, the New York Knicks. In each of the last two seasons, the Celtics have opened the first round of the playoffs on the road because of regular-season struggles and, despite a run to the cusp of the NBA Finals during the 2011-12 campaign, find themselves at a bit of a crossroads. Do the Celtics give a veteran core one more chance? Do they shake up that core a bit looking for a quick fix to return to true contender status? Or do they shake up the whole team?
This week, we are taking a closer look at four primary scenarios in play for how Boston's offseason might unfold:
During this series, we'll take a closer look at each possible option, gauge the potential for it to occur, determine some moves that might go along with it and debate whether it's the best course of attack. The series finale: Cleaning house.
What it entails: The remaining core from the 2007-08 title team is Kevin Garnett, Paul Pierce and Rajon Rondo. Under this teardown scenario, the Celtics would move on from them all, by whatever means necessary (including releases, retirements and trades). Boston would also attempt to rid itself of any other bloated contracts, which would include Jason Terry, Brandon Bass and Courtney Lee (potentially Jeff Green, too, unless he's viewed as the cornerstone with three years and $28 million remaining on his deal). That would leave Boston's recent draft picks (Avery Bradley, Jared Sullinger and Fab Melo) as the remaining highest paid players, all under reasonable mid/late-first-round rookie deals.
Degree of difficulty: High. Shaking the NBA Etch-A-Sketch is no easy task. Boston's preference here would be to bring back young talent and future draft picks, but the need to match salaries -- including three players that make $12 million or more -- would be incredibly daunting and force Boston to take on players/salaries it wouldn't desire (unless they were expiring deals). It's also somewhat daunting for the most decorated franchise in league history to accept being an NBA doormat, particularly when neither the coach nor ownership prefers to go back to the misery of the pre-Big Three era.
Why it makes sense: The 2014 draft is supposed to be a bonanza and next summer's free-agent crop could be as bountiful as ever. Teams with a healthy balance of picks and cap room could lay a foundation for future success with the right moves (and the right bounces from the ping-pong balls). And if the Celtics desire a makeover, why not get all the plastic surgery done at one time rather than just a simple facelift?
Why it doesn't make sense: Boston still has a talented young core and the future could be built around Rondo and Green. While escaping NBA mediocrity might not be very easy for the 2013-14 season, Boston can still foster a less drastic roster overhaul by simply biding time until next summer. Plus, simply being bad isn't always good enough. Even rebuilding teams need some luck in putting things back together.
Let's make some deals: Overhauling the roster for the 2013-14 season is virtually impossible on the fly. The Celtics can waive Pierce and hope Garnett retires, but trading away the other pieces still brings back salary that's going to clog up the payroll for the upcoming season. A teardown almost certainly would be a multiyear process. Boston could examine trading the likes of Pierce, Garnett and Rondo for some combination of young talent and draft picks, but the overhaul is actually easier next summer when Pierce will be off the books, Garnett will be on a partially guaranteed final year (and more likely to walk away) and Rondo will be entering the final year of his extension.
Final thoughts: A teardown, as daunting a prospect as it is to stomach given Boston's recent success, is an intriguing option for those patient enough to endure it. It's a chance to rebuild from the ground up and take advantage of having young talent under the team's long-term control (while using freed cap space to pick your choice of franchise cornerstones). An extreme makeover might be the best option for the long-term sustainability of the team. Alas, there are too many factors outside of the team's control to make it a guaranteed path to success -- at least as quickly as the team would desire. With Boston's history of success and the smart people leading the franchise, an overhaul on the fly is almost certainly the path of choice in a market in which the team might already be the fourth most popular team at this time.
Your turn: Should the Celtics go the nuclear route? Sound off with your thoughts in the comments.