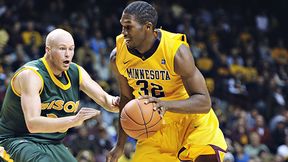 AP Photo/Tom Olmscheid
Minnesota's Trevor Mbakwe during the college season.The Boston Celtics hosted Minnesota's Trevor Mbakwe as part of a pre-draft workout this past weekend (see his Instagram post). The 6-foot-8 power forward, who is 24 years old, is projected as a potential second-round pick because of character issues and knee surgeries. But he's also an intriguing guy. From ESPN Draft guru Chad Ford's latest notebook:
[Mbakwe] was just a beast on the boards [in recent workouts]. He's undersized, but a massive 7-4 wingspan combined with a 36.5-inch vertical allow him to play bigger than he actually is.
The Celtics don't currently own a second-round pick, so why the continued interest in second-round guys? Boston could simply be gauging the talent level in the second round of the draft in case they maneuver and land a pick there. Or if Mbakwe slides through the cracks, it might be a chance for Boston to swoop him up after the draft. The Celtics are going to have room for some training camp bodies and those are guys that could always land as affiliated players with the Maine Red Claws of the D-League, giving Boston a chance to groom them a bit if they have NBA potential.