During the slower times during the offseason (and an early playoff exit has made the past few weeks a tough grind for Celtics fans), we'll occasionally reach into our Celtics Mailbag and pull out a question to field in the blog. Hop HERE to submit a question for an upcoming 'bag: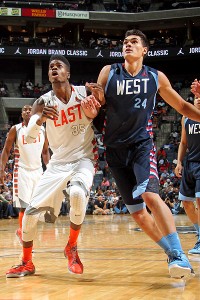 Ned Dishman/Getty Images
Steven Adams (24) is an intriguing big man if available at No. 16.Q: You're on the clock: Should the Celtics take a point guard or center in the draft? -- Clyde (Escondido, Calif.)
A: One thing that president of basketball operations Danny Ainge has always said is that the Celtics try to take the best available player on the board, regardless of position. The thinking there is that talent should always outweigh need and -- while needs might change -- you're more likely to find an long-term talent by drafting on pure ability and potential, rather than reaching to fill a hole on your roster.
That being said, it's pretty clear the Celtics have honed in on those two positions in this year's draft. The need for a backup ball-handler was glaring during Boston's first-round playoff exit last month and this team has always craved pure size (especially since it would help take some wear and tear off Kevin Garnett by allowing him to spend more time at the power forward spot in bigger lineups).
Ultimately, Boston's decision will be dictated by how the draft plays out and how their board takes shape through ongoing draft workouts. If the talent in the middle of the first round ends up being pretty even, I think the Celtics could even consider dropping back a bit, particularly if they can pick up an extra pick (whether it's a second-rounder this year or next). The Celtics did that in 2011 by dropping a couple spots as part of the MarShon Brooks-for-JaJuan Johnson swap (as poorly as that swap worked out for Boston, it does have Brooklyn's 2014 second-round pick because of it).
But for the sake of the argument, let's say the Celtics are on the clock at No. 16 and there's an equal amount of talent on the board, including some of players they've worked out (or been linked to) like Pittsburgh's Steven Adams and Duke's Mason Plumlee for big men, and Germany's Dennis Schroeder and Miami's Shane Larkin for guards. If I'm in Ainge's shoes, I'm going big in this situation. I think Adams is a very intriguing player, even if it takes a little time to hone his game. I don't think it would be the worst thing to have a little young big-man competition -- even if it relocates to Maine of the D-League at times -- to encourage both Adams and Fab Melo to progress their games. Ideally, Adams might even show that he's NBA-ready immediately, as Boston has found success throwing young big men into the fire so long as they can hold their own defensively (think Semih Erden and Greg Stiemsma, who both made tremendous early strides).
There's no denying that ball-handling is an issue, but one that is slightly diminished by the return of a healthy Rondo. You can't get a rotation big man at a reasonable rate in free agency in the NBA, but you can probably find an experienced floor general at low dollars on the open market, so Boston could always look to free agency to fill that need (it also gives a little bit more time for Terrence Williams' legal situation to play out and whether he'll be back to provide ball-handling depth).
I am intrigued by how the Celtics have worked out some late-round ball-handlers. Could they find a defensive-minded guard that could be stashed at the end of the roster and allowed to develop as a depth point guard? With Rondo's health no guarantee at the start of the year, even if the team has set an aggressive timeline for the start of training camp, a young ball-handler could get increased preseason reps with Boston and that could help foster their development.
Your turn: All things being equal, would you prefer a center or a point guard in the draft? Sound off with your draft plan in the comments. And remember to hop HERE to send a question for an upcoming offseason mailbag.