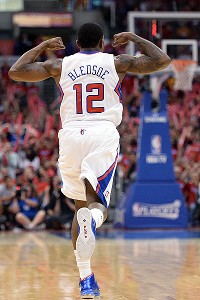 Harry How/Getty Images
Will talks between the Celtics and Clippers stall out over Eric Bledsoe?After talks between the Celtics and Clippers initially heated up this afternoon, things have since cooled over the potential inclusion of Eric Bledsoe in any deal that would send Kevin Garnett and Doc Rivers out west:
The initial talks with Boston, sources said Saturday, were focused on the Clippers satisfying Boston's compensation demands to let Rivers out of his lucrative contract and corresponding trade proposals aimed at bringing Garnett to town with Rivers. The Clippers, sources said, are willing to surrender cash and multiple draft picks to secure Rivers' services and offer young center DeAndre Jordan as the primary piece in a deal in exchange for Garnett. But sources said Saturday the Clippers, at present, are refusing to include the highly coveted Bledsoe with Jordan in the same trade in hopes of keeping Bledsoe for a separate transaction.
* Rapid reaction: The Celtics have no reason to let Rivers out of his contract without securing a ransom for his services. Getting back Jordan and a late-round pick simply isn't enough to part with both Rivers and Garnett (the Clippers need to put Bledsoe back into play and/or help Boston remove some of its other salary cap clog). Boston clearly feels it's in a power position here, able to retain Rivers (or at least his rights if he ultimately elects to spend next season in the broadcast booth) if no deal can be struck with Los Angeles. From the beginning, it appeared tough to satisfy both sides with so many moving parts. Now it appears the deal will go into a holding pattern and we'll have to see if the Clippers move forward with pursuing a free-agent coach like Lionel Hollins or Brian Shaw. Even after this flirtation with Los Angeles, there's no reason to believe Rivers wouldn't still be welcome in Boston, his offseason silence allowing him to downplay all of this hoopla if he elects to return for a 10th season on the bench.