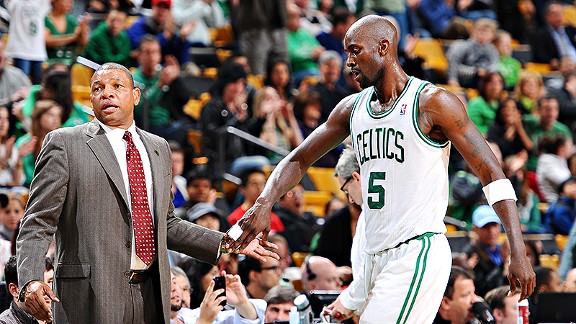 Brian Babineau/NBAE/Getty Images
Doc Rivers and Kevin Garnett may not be off to Los Angeles after all.Rapid reaction after trade talks between the Boston Celtics and Los Angeles Clippers appear to die Tuesday morning:


THE NITTY GRITTY
After four days of on-and-off negotiations about a potential package that would have sent Doc Rivers and Kevin Garnett to Los Angeles, the Clippers and Celtics broke off talks again Tuesday as sources indicated the Clippers walked way from the table while balking at including two first-round picks in exchange for Rivers' services. The Celtics would have received DeAndre Jordan and one first-round pick in a proposed package.
WHAT'S UP, DOC?
Rivers has spent the past six weeks on the fence about returning to Boston and it seemed as if the Celtics might be resigned to a move given that he was less than 100 percent committed to the potential roster overhaul that lies ahead. But with talks breaking off and the Clippers suggesting they'll examine free-agent options like Brian Shaw and Lionel Hollins (coaches that won't force the team to break up its roster or pay big money to bring on), it makes you wonder if Rivers can come back to Boston without issue. He can easily smooth over the public side of this, suggesting he was simply examining all options as part of his annual detox process and that he could never have left Boston regardless of how things played out. Internally, he's got a little more explaining to do, this just two years after pledging to be part of the less-than-exciting roster overhaul process that loomed. There could be some resentment among players who think their coach was fixing to go chase a championship elsewhere. That said, if there's any coach capable of smoothing over any hard feelings, it's Rivers.
BACK TO SQUARE ONE
All these very public negotiations did the past four days is add to Boston's offseason headaches. In a way, they are right back to square one, only it's a bit more awkward now. The Celtics still don't have a commitment from their head coach and they still don't have a definitive offseason path. What happens next with Kevin Garnett? And Paul Pierce? How do players like Rajon Rondo feel about the way this whole fiasco played out? The draft looms little more than a week away and free agency opens soon after.
BAD DEAL AVOIDED?
It was pretty obvious that the Clippers had the leverage in negotiations and were unwilling to sweeten the deal for Boston, whether it be the initial request for the inclusion of backup point guard Eric Bledsoe or, later, another first-round pick (which is a bit more baffling since a championship contender's pick would be a not-so-valuable late first-round selection). Regardless, Boston really couldn't come away with just DeAndre Jordan and a first-round pick for one of the league's elite coaches (Rivers) and the backbone of their team (Garnett). Boston needed to move another cap-clogging contract (Jason Terry, Courtney Lee) or get back more in return to even consider giving away two of its top assets.
IT'S OVER, RIGHT?
What a dizzying 96-hour period from the time talks got hot and heavy on Saturday until things fell apart for good on Tuesday. This whole process was like a bad game of red light, green light (trade edition). Now maybe both sides can move forward with other options and bring a bit more definitiveness to their respective offseasons.