Shrouded by the still-unfathomable possibility that Boston Celtics coach Doc Rivers could skip town -- this after his unforeseen change of heart in facilitating a rebuilding process -- is the fact Rivers nearly made a break for Los Angeles with Kevin Garnett in tow.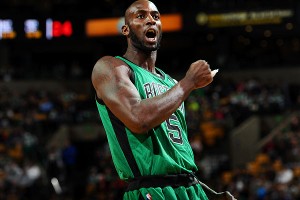 Brian Babineau/NBAE/Getty Images
Even at age 37, Kevin Garnett is a game-changer, and his off-the-court impact is immeasurable.Let that marinate for a second: The Celtics were very close to not having Kevin Garnett any more.
No ferocious chest pounds. No crazy food analogies. No pregame head-banging on the stanchion. No four-letter expletives picked up by courtside microphones. No more telling Boo Boo to go to bed. No bar fights. No late-game grooving to Gino (someone better send a VHS of that American Bandstand clip to whatever destination he lands in if he does leave town; nothing makes Garnett happier).
Oh sure, we knew this day was coming. Celtics fans were downright paralyzed by the idea that Garnett might retire last offseason, only to dance in the streets to news that he inked a three-year extension.
It was still a year-to-year pact for Garnett, but it seemingly ensured that he would retire in green. Heck, he said as much when -- as rumors swirled about his future before this season's trade deadline -- he announced (unprompted) in early February that, "I just want to say that I love my situation [in Boston] & I bleed green and I continue to do that. And, if it's up to me, then I'm going to retire a Celtic. So I just want everybody to know that, all right?"
Now there's a very real chance that Garnett might retire elsewhere. While Boston's talks with the Clippers appeared to die Tuesday, there's always the chance Garnett is shipped out to facilitate a rebuilding process if the Celtics elect to go in that direction.
It's impossible to overstate what Garnett has meant to the Celtics franchise. His arrival changed virtually everything for a Boston team coming off a dreadful 2006-07 season in which it lost a franchise-record 18 straight games. Garnett embodied the "Ubuntu" team-first mentality that -- five years ago Monday -- left him bellowing, "Anything is possssiiiibbbble!!!" after the Celtics secured Banner 17 to cap his first season in Boston.
Hop HERE to read the full story.