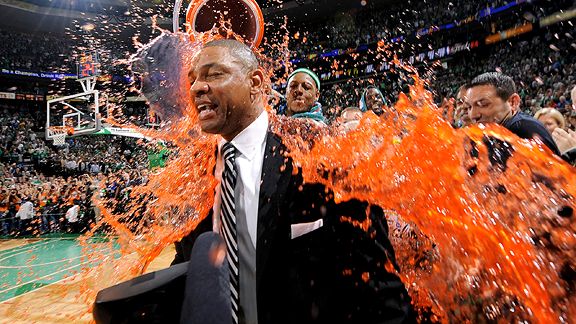 Brian Babineau/NBAE/Getty Images
The memories will remain after Doc Rivers departs.BOSTON -- There are those who will be left slightly bitter by the way Doc Rivers' tenure as coach of the Boston Celtics is coming to a close, the team (finally!) reaching a deal Sunday with the Los Angeles Clippers that will see Boston release Rivers from the final three years of his contract in exchange for a future first-round draft pick.
By maintaining a public silence during these on-again/off-again, zombie-like negotiations, Rivers opened himself up to some criticism, from which he certainly is not immune. But those left disenchanted, believing that Rivers is grabbing a Hollywood life vest and jumping from this sinking Ubuntu ship, shouldn't let a messy eight-day finish take away from what Rivers accomplished here over the previous nine years.
Rivers, who departs as the third winningest coach in Celtics history (sitting behind only Tommy Heinsohn and Red Auerbach), resuscitated a glory-covered franchise and delivered its first NBA title in 22 seasons. Rivers helmed five ultra-successful campaigns with a Big Three core of Paul Pierce, Kevin Garnett and Ray Allen, and likely his only lament is not delivering another title during that run. He still leaves an indelible footprint on a storied franchise.
Garnett might have changed the culture of the Celtics, but Rivers changed the climate. After enduring those lean early years when fans chanted, "Fire Doc," Rivers -- with help of the talent management put around him and aided by his personality -- morphed into one of the game's elite coaches. His game management has its faults, but Rivers became a master recruiter for Boston, a rare instance when the coach was a team's top selling point (it certainly wasn't the weather).
Hop HERE to read the full story.