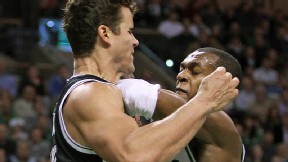 Jim Davis/The Boston Globe/Getty Images
Rajon Rondo and Kris Humphries as teammates?!Let the draft night fun begin. From Yahoo! Sports:
The Brooklyn Nets are pursuing a blockbuster deal with the Boston Celtics to acquire future Hall of Famers Kevin Garnett and Paul Pierce, league sources told Yahoo! Sports. The talks are centering around a package that would include Gerald Wallace, Tomike Shengelia, the expiring deal of Kris Humphries and three future first-round picks, sources told Y! Sports.
A handful of thoughts on this proposed exchange:
* Three first-round picks is obviously super intriguing for a Boston team headed into rebuilding mode, but NBA rules make this process a little difficult. Because of the Stepien Rule, teams cannot trade away first-round picks in successive years (unless they acquire additional picks). What's more, the Hawks have the ability to swap places with Brooklyn in each of the next two drafts. Either way, Boston would be waiting at least five years to utilize all three picks.
* Trading within your own division will always give teams pause. Celtics president of basketball operations Danny Ainge denied the Brooklyn Nets the opportunity to talk with Doc Rivers about their coaching vacancy earlier this offseason because he didn't want Rivers landing with an Atlantic Division rival. The return haul would have to be overwhelming to justify an intra-division swap.
* Wallace has three years and $30.3 million remaining on his contract. Woof. Clearly, he's a necessary inclusion if Pierce is to be part of this trade, but Boston would be rather insane to take on that money for the next three years just to get what would likely be three non-lottery picks.
* After being a double-double player (13.8 points, 11 rebounds) in 2011-12, Humphries is coming off a putrid 2012-13 campaign in which he averaged 5.8 points and 5.6 rebounds over 18.3 minutes per game. He's still an intriguing player and only 28 years old, and the sort of big body that Boston desires up front. After his dust-up with Rajon Rondo last season, that would make practices more interesting in Boston.
* The bottom line: The Celtics desire draft picks and moving the likes of Pierce and Garnett to get them is intriguing in the latter stages of their careers, but there has to be a better deal out there than absorbing Wallace's contract.