BOSTON -- While the Doc Rivers drama dragged out over nearly two weeks, the Boston Celtics didn't waste much time diving into Phase 2 of their rebuilding process.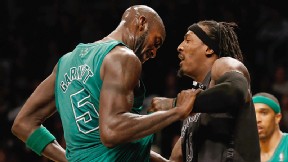 Mike Stobe/Getty Images
Kevin Garnett and Gerald Wallace will be switching jerseys this summer.Sources told ESPN on Thursday that Boston and the Brooklyn Nets have agreed in principle on a blockbuster trade that will send Kevin Garnett, Paul Pierce and Jason Terry across the Atlantic Division in exchange for a package headlined by three first-round picks (2014, '16, '18), Kris Humphries and Gerald Wallace. No trade between the teams can officially be consummated until July 10, when a league-wide moratorium on signings and trades is lifted after free agency begins July 1.
Where do we even begin? It's the end of an era in Boston. Not just these past six ultra-successful seasons since Garnett arrived, in which the Celtics ended a 22-year championship drought as the Big Three delivered Banner 17 in their first season together in 2008, but also Pierce's 15-year run with the team that drafted him.
But having watched their coach head westward, there was no room for sentimentality as the Celtics look to expedite the next rebuilding process. How serious is Celtics president of basketball operations Danny Ainge about speeding up this procedure? He is dealing Garnett and Pierce to an Atlantic Division rival, one he wouldn't even allow Rivers to interview with for Brooklyn's vacancy last month.
We already told you how much you'll miss Garnett. He changed the culture in Boston and was the conscience of this team for the past six years. It seems almost impossible to imagine a Celtics team without Pierce on the floor, and it'll be tough for some to stomach the idea that Boston traded away its captain for what could be three late first-round picks.
The Celtics will take on the $12 million expiring contract of Humphries and get a serviceable 28-year-old big man who averaged a double-double two seasons ago. Wallace has talent but also has a cringe-worthy contract (three years, $30.3 million remaining), and this is the second time he will have been traded in 15 months.
Boston also is expected to take on Reggie Evans (a rebound-vacuuming big man whom the Celtics really could have used in recent seasons), Keith Bogans (a 10th-year swingman) and some younger bodies to make the money line up. Boston should trim somewhere around $7 million off its books in the deal alone, which will help keep it away from the luxury-tax line as the roster is reshaped.
One thing Ainge made certain earlier: Phase 3 of this rebuild isn't likely to include shipping out Rajon Rondo. Ainge called him a centerpiece of the future and noted the team was not looking to trade him.
But the Celtics will trade Pierce and Garnett. It's the end of an era.
"I knew it was coming," Doc Rivers said of the blockbuster move. "Danny and I had talked about that over the last three or four weeks. I knew all this was going to happen. It's obviously sad whenever an era or time ends, and it has now. That's the sad part."