Celtics fans, as you're well aware, the rebuilding process is never easy. But here's how the Nets players that Boston will acquire in this blockbuster trade can help: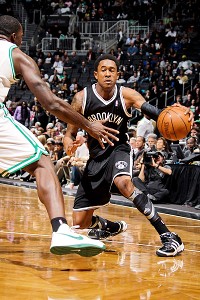 Nathaniel S. Butler/NBAE/Getty
MarShon Brooks, originally drafted by Boston, will be back with the Celtics this year.* MarShon Brooks: The 24-year-old swingman can flat-out score. But after averaging 12.6 points in 29.4 minutes per game in his rookie season, Brooks averaged just 5.4 points in 12.5 minutes in his sophomore campaign. Brooks quickly fell out of favor with coach Avery Johnson because of his deficiencies in other areas of his game -- most notably defense -- and had a down year even after Johnson was fired. Brooks is extremely excited to get himself into this situation. If he's allowed to make mistakes -- turn the ball over, make a bad pass, miss a defensive assignment -- he'll hopefully be able to learn and blossom into a potential All-Star. He has that type of potential.
* Gerald Wallace: Wallace, 30, is Mr. Intangibles, a veteran who can do a little of everything. He struggled to score last season -- his 27.3 percent shooting percentage from outside the paint was an NBA-worst -- but he's willing to do whatever it takes to win. Wallace earned his nickname "Crash" for a reason. It seems like he falls on literally every play. The Celtics would probably be best-serve playing Wallace as a stretch power forward since his perimeter jumper is extremely inconsistent. You will quickly realize Wallace has quite the baritone voice. He doesn't appreciate losing or struggling with his own game, and will likely let reporters know as much, at least if last season was any indication, anyway.
* Kris Humphries: Humphries, 28, is going into the final year of his contract and no longer has to deal with the whole Kim Kardashian fiasco, so perhaps he's primed for a big year. Humphries wasn't particularly good last season after averaging a double-double the previous two years. But he'll probably more motivated in 2013-14, figuring a good season will enable him to cash in once again.
* Keith Bogans: The 33-year-old veteran brings defense and the corner 3. He wasn't very effective for the Nets, but will likely be a positive influence on some of the younger players on the roster.
* Kris Joseph: Joseph didn't really play much for the Nets last season, so he's a bit of a wildcard. Nevertheless, maybe he gets some PT on Boston's rebuilding squad.
Of course, even if those players don't help the Celtics, there's always hope that those three future first-round picks will, particularly if the Nets struggle in a couple years.
Mike Mazzeo covers the Nets for ESPNNewYork.com. Hop HERE as ESPN Boston's Chris Forsberg tells Nets fans what they are receiving from the Celtics.