The start of NBA free agency truly is Christmas in July. But sorry, Celtics fans, after years of pretty presents, it's most likely coal this year.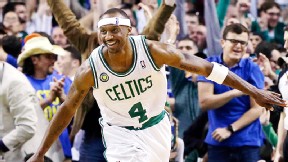 AP Photo/Elise Amendola
After being Boston's big free-agency splash a year ago, Jason Terry is set to fly out of town soon.It's not your fault, even if we have gotten a little spoiled in these parts by all the success of our sports teams. This is just the way it goes during rebuilding. You have to try to save those pennies for a couple of Julys, right some of the wrongs you made at the start of NBA summers past and hope to dive back into the big-name sweepstakes sooner rather than later.
Last July 1, Doc Rivers made Jason Terry his first phone call, trying to recruit the veteran sixth man who the team thought would certainly cure its longstanding bench anemia. The Celtics loaded up knowing full well that the 2012-13 campaign might be the last run for a veteran core led by Kevin Garnett and Paul Pierce, throwing three years and $15.7 million at the now 35-year-old guard. Terry tattooed a Celtics leprechaun spinning the Larry O'Brien trophy on his arm and immediately endeared himself to the region; maybe he can use some of the 7.5 percent trade kicker that Boston will soon pay him to aid the removal.
This year? The Celtics don't even have a coach to make recruiting pitches. Celtics president of basketball operations Danny Ainge is more likely to call a rival general manager about a deal than try to sweet-talk a big-name free agent.
Terry is just the latest of Boston's mid-level misfires (Jermaine O'Neal, Rasheed Wallace and Chris Wilcox before him). Alas, as an over-the-cap team, the Celtics have often been at the mercy of their few exceptions in hopes of giving their veteran core a boost.
Now, as the Celtics simply count the days before a blockbuster swap that will send Kevin Garnett, Paul Pierce and Terry to Brooklyn can be officially completed, the team is more likely to examine the trade market while trying to unclog cap constraints with the goal of overhauling its roster as quickly as possible.
So while the Rockets, Mavericks and Lakers all draw headlines as they prep their Dwight Howard recruitment packages, Boston is more likely to examine if some of its remaining high-salary talent could be moved for future assets via trade. Even after the Nets swap -- which apparently will not be official until July 12 -- Boston still has long-term money committed near the top of its salary structure and must find ways to trim costs so that it's in prime position as it endures this roster overhaul.
Getting the salary structure in order is no simple chore. Sometimes it means showing great restraint, which is a little easier if you don't want you team to be too good. The Celtics, who will be hard-capped if Keith Bogans is sent to Boston via sign-and-trade as part of the Nets deal, will likely desire to stay below the luxury-tax line next season. New repeater rates loom after this season, and the Celtics won't be looking to add big dollars to their roster.
So despite the fact that Boston could have some valuable exceptions available (like the non-taxpayer mid-level or biannual), it might be better for the Celtics to simply sit on their hands, or at least err on the side of short-term additions.
The Celtics have only one player of their own set -- Wilcox -- to hit the free-agent market tonight. His first season in Boston, one in which he signed for the full value of the mini mid-level ($3 million) in 2011-12, was shortened by a heart ailment. Wilcox returned last season on a minimum contract, but the team tried to deal him away at the February trade deadline (he utilized his veto rights to block a trade to Washington). Given that Wilcox will be 31 before the start of next season, it's hard to imagine a third tour of duty, but he did have a strong bond with some of Boston's new locker room vets like Rajon Rondo and Jeff Green.
Remember, too, that Boston doesn't have a lot of roster space at the moment. As the Celtics get ready to take back five players in the Nets trade, they need to do a bit more shuffling if they are going to add bodies. On Sunday, the Celtics cut ties with Terrence Williams, one of three nonguaranteed contracts currently on the roster, and will have to make decisions on Shavlik Randolph and D.J. White later this summer -- or sooner if they need the space, as the duo could be packaged to a team looking to shed salary as well.
It seems reasonable to expect Boston to be quiet at the start of free agency. The Celtics would seemingly be more interested in low-cost, short-term options, maybe even a reclamation project in hopes of finding a hidden gem.
Otherwise, it's free-agency coal. But the presents will be back ... eventually. The hardest part of the rebuilding process is the wait.