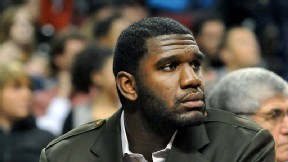 Steve Dykes/US Presswire
The Celtics are among five suitors for Greg Oden's services.ESPN.com's Jeff Goodman reports the Celtics are among a group of five suitors for Greg Oden's services:
Greg Oden will likely choose from a group of suitors that includes the San Antonio Spurs, Miami Heat, Cleveland Cavaliers, Boston Celtics and Memphis Grizzlies, a source close to Oden told ESPN.com.

Oden, 25, has battled numerous knee injuries and hasn't played in an NBA game since Dec. 5, 2009. He is coming off his third microfracture knee surgery in February 2012. Oden was the top overall pick in the 2007 NBA draft out of Ohio State, chosen by the Portland Trail Blazers one spot ahead of Kevin Durant.

Oden has averaged 9.4 points, 7.3 rebounds and 1.4 blocks in 82 career games and has been working out in both Columbus and Indianapolis this past offseason. Sources close to Oden told ESPN.com that he is optimistic he can return for the 2013-14 season opener.
The Celtics met with Oden back in early February in what Celtics president of basketball operations Danny Ainge termed, "just a visit" to the team's training facility. Could Boston sneak in this summer and snag a high-reward reclamation project? While Ainge said Monday that the Celtics are not making free agency a priority as the team tries to get its salary structure in order this summer, Oden might be the type of player the team could give exception-level money to -- even if it's just a bit more than the minimum contracts that a team like Miami could offer -- and hope that the allure of a low-pressure situation might attract the rehabbing center. It might come down to whether Oden prefers a more limited role with a greater chance to win immediately, or if the opportunity to help Boston rebuild alongside a young core of Rajon Rondo and Jeff Green could entice him.
The Celtics are clearly not the most attractive option given their murky makeover, but both sides could benefit from a partnership and Oden, if he can stay healthy, is the type of player that could certainly accelerate the rebuild at a bargain cost.
Your turn: Would Oden be a good fit for the Celtics? Or is the injury history reason to stay away? Sound off in the comments.