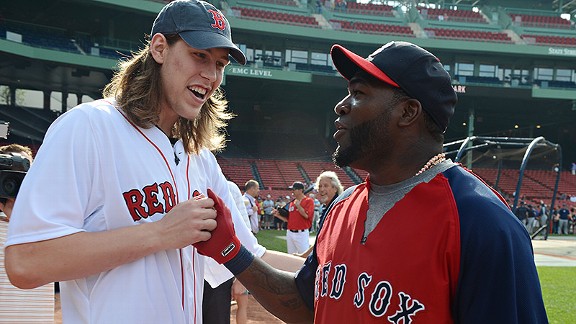 Michael Ivins/Getty Images
Celtics rookie Kelly Olynyk meets Red Sox first baseman David Ortiz.Boston Celtics first-round pick Kelly Olynyk got a chance to rub elbows with David Ortiz and the rest of the Red Sox on Tuesday night at Fenway Park. ESPN Boston's Scott Barboza caught up with Olynyk briefly as the Sox took batting practice:
On his impressions of Boston so far: "It hasn't been that much. I was in [Mattapan on Monday] for the [rookie introductions] and then got to come here today. I like it so far, I just want to have more time to see more of it."

On his first time at Fenway Park: "This is great, a great place to watch a baseball game."

On his connection to baseball: "I actually played some growing up. I loved the game. I used to pitch and play a little first base. Obviously, basketball was my future, but I really enjoyed it."