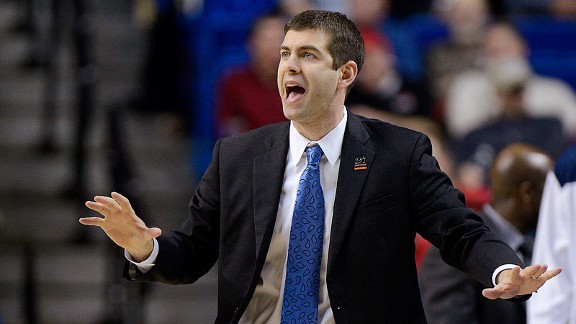 Jamie Rhodes/USA TODAY Sports
Butler's Brad Stevens is the new coach of the Celtics.BOSTON -- Rapid reaction after the Boston Celtics announced Wednesday that Brad Stevens will be the 17th coach in team history:
* SURPRISE! Two days after Celtics president of basketball operations Danny Ainge said the team was in no rush to put its next coach in place, the Celtics dropped an early evening bombshell by announcing Stevens' hire. After the very public on-again, off-again negotiations that saw Boston allow Doc Rivers to take the head-coaching job with the Los Angeles Clippers, it's probably by design that the Celtics quietly went about their business here. It makes me think back to Ainge's news conference last month after Rivers' departure in which he casually noted about Boston's impending coaching search, "We don't need that to happen fast, so we'll take our time, unless our No. 1 choice makes a quick choice." You get the feeling Ainge might have had Stevens in mind and things came together quickly when the former Butler coach was approached about Boston's vacancy.

* AINGE'S GUY: Ainge said of Stevens in the press release announcing his hire: "Brad and I share a lot of the same values. Though he is young, I see Brad as a great leader who leads with impeccable character and a strong work ethic. His teams always play hard and execute on both ends of the court. Brad is a coach who has already enjoyed lots of success, and I look forward to working with him towards Banner 18." Stevens should be a nice foil for Ainge, who often wears his emotions on his sleeve when watching courtside. Stevens maintains a calm sideline demeanor and has said in the past he does so to prevent his players from being on edge. That could be key with a young core that could endure some lumps in the early stages of Boston's rebuild.

* A STATS GUY: Stevens has a reputation for studying tape and being keen on statistical analysis. That makes him a perfect fit in Boston, where the front-office staff (including assistant general manager Mike Zarren) leans heavy on statistical resources. His ability to be receptive to the team's data and to try to incorporate that in his game plans has potential to create a quality bond between the new coach and the front-office staff.

* OUTSIDE THE BOX: It's impossible to overlook the fact that the Celtics just hired a coach who's five months younger than soon-to-be departed Kevin Garnett. Stevens is three years younger than Garnett's soon-to-be head coach in Brooklyn's Jason Kidd, who just retired from the league this past season. Stevens unseats Orlando's Jacque Vaughn (age 38) as the youngest coach in the league. It'd be a risky hire in a veteran locker room, but with Boston going young with its roster, Stevens ought to feel right at home with a bunch of guys in their early 20s (and Boston owns nine first-round draft picks over the next five seasons). The bottom line is Stevens has been a winner in six seasons at Butler, leading his team to two NCAA title games and elevating the program to new heights. Fair or not, there will be comparisons to Boston's last college-groomed coach in Rick Pitino, who went an underwhelming 102-146 from 1997 to 2001. Can Stevens bring his college magic to the pro game? Ainge clearly believes he can.