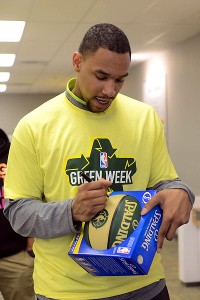 Darren McCollester/NBAE/Getty
Celtics second-year forward Jared Sullinger doesn't much like the notion of a rebuild in Boston.ORLANDO -- Boston Celtics second-year forward Jared Sullinger doesn't want to hear that dirty "R" word.
Sure, his Celtics have made some rather large changes to their roster, an offseason overhaul that will soon include shipping veterans Paul Pierce, Kevin Garnett and Jason Terry to Brooklyn. This after coach Doc Rivers fled out west to usher in the makeover process.
But Sullinger gets ruffled at the idea of a rebuild.
"When you have Celtics pride, you really don't have time to rebuild," Sullinger said on Sunday in Orlando after lending his assistant coaching talents to the Boston summer squad, which lost its opener to the host Magic at the Amway Center. "You've got to play hard, you've got to play smart.
"I think with the veterans we have like Gerald Wallace coming from Brooklyn ... and we have Jeff [Green], everybody counts us out. But we still have [Rajon] Rondo. He won a title in '08. He knows what it takes. That 'rebuild' word, we really don't like it."
Sullinger knows that younger core must take on increased responsibilities without the veterans to shoulder the load (and provide a safety net), but the 21-year-old is adamant that there's enough talent in Boston to remain competitive. He bristles at the suggestion of losing in order to aid the transition process.
"Everyone's talking about how we're going to tank and how we're going to do this," Sullinger said. "We just want to play and shut everybody up."
Sullinger said that having just one season alongside Garnett and Pierce left a monster impression on him, particularly on how to carry himself as a professional. And even as one of the younger players on the team, he's in Orlando hoping to help aid some of the newer faces.
Like his opinions on rebuilding, Sullinger wasn't bashful in sharing tips and tricks with the members of the summer roster.
"It's just been like that for a long time. I've been doing that since I was like 12," Sullinger said. "Even talking to my older brothers and, at the time they didn't listen, but as time wore on, they were like, 'You were right about what you said.' I'm just not ashamed of sharing my basketball IQ."
Celtics assistant coach Jay Larranaga, serving as head coach of the summer team, was asked if Sullinger "kind of" served as an assistant coach on Sunday.
"Kind of?" Larranaga quipped.
"Sully is so smart ... and Sully is also a very social guy," Larranaga added. "Every single thing that he said was right on point. It's a real advantage, almost as much of an advantage as if he were on the court. We would prefer he were on the court, not coaching, but he was also helpful on the bench."
Sullinger, who is rehabbing from back surgery that ended his rookie campaign in late January, looks forward to being back on the floor next season. And he stressed that his goals for the team won't change despite the roster moves around him.
"Nothing changes, we've just got new teammates, that's about it," Sullinger said. "Other than that, it's still the same game. You've still got to put that orange basketball in the hoop, and whoever has the most points wins."