ORLANDO -- By now you've heard the name Drew Cannon, the stats-crunching assistant that Boston Celtics coach Brad Stevens hired for his staff at Butler (and, if not, hop HERE to catch up). Stevens arrives in Boston with a reputation for embracing advanced statistics and one of his former players offered a glimpse Sunday on how Stevens uses that data in his game plans without overwhelming his team.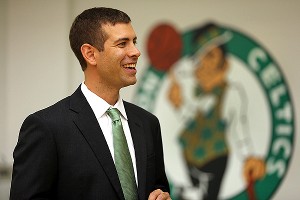 ohn Tlumacki/The Boston Globe/Getty Images
New Celtics coach Brad Stevens."I think [Stevens and Cannon] went over like a 10-hour report before and after every single game," explained Andrew Smith, a Butler grad who's here at summer league playing for the Oklahoma City Thunder. "That alone proves [Stevens' attention to detail], and that's just part of what he does. His ability to congest all that and give it to us in a way that's understandable, and just give us three or four key things that we can focus on each game, and not just be overwhelmed -- his ability to do that, is very impressive."
Last week after his introductory press conference in Boston, Stevens explained his penchant for numbers and trends.
"As far as the analytics go, I'm thrilled and excited about all of the information that we have to grab," he said. "And I've never really had that before. We have a mountain full of information, the key in coaching is whittling it down to what can help you prepare, what can be applied on court without overdoing it. It's a simple game in a lot of ways, playing with a clear mind is important."
The Celtics and assistant general manager Mike Zarren have long been at the forefront of utilizing advanced stats as a part of their evaluation process. Celtics president of basketball operations Danny Ainge has cautioned that, while Stevens and members of the team's front office embrace those numbers, Boston decision-makers still lean heavy on the good old-fashioned eyeball test.
Said Stevens: "I'm a numbers guy by trade, it's just the way I was born. It's not like I embraced the statistical revolution, it's just the way my mind works. I just found some motivation in numbers."