ORLANDO -- The Boston Celtics rooting for an Earvin Johnson!? Blasphemous.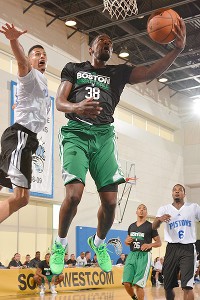 Fernando Medina/NBAE/Getty
Darius Johnson-Odom sparked the Boston offense on Monday at summer league.Well, fans will have to make an exception this week for Darius Earvin Johnson-Odom. The speedy 23-year-old guard, whose middle name is indeed an homage to the Los Angeles Lakers legend, scored a game-high 22 points on 8-of-14 shooting as the Celtics crunched the Detroit Pistons 93-63 during Day 2 of the Orlando Summer League on Monday at the Amway Center.
Johnson-Odom, the 55th overall pick in the 2012 draft who played four games for -- yep -- the Lakers last season, showcased his electric speed and some NBA range (he made two of the three 3-pointers he put up) while sparking the Celtics off the bench.
"He's a competitor, he plays hard, he's fast as can be, he's tough," said Celtics assistant Jay Larranaga, the head coach of the summer squad. "All those guys from Marquette, coach [Buzz] Williams does an incredible job of setting their habits, to play hard as can be. He's explosive. He's a very, very good player."
Larranaga felt like the Celtics were not aggressive enough at times during Sunday's opening loss to Orlando. Johnson-Odom set the tone with his aggressiveness toward the basket.
"Darius was very explosive, very aggressive," Larranaga said. "We felt like we were not aggressive enough [Sunday] in certain parts of the game, so they did a good job of responding to that."
Point guard Phil Pressey combined with Johnson-Odom to form an energetic backcourt and took full advantage of his teammate's speed.
"Oh yeah, I like Darius; he's very explosive in the open court," Pressey said. "I know if I can get him the ball in the open court, it's going to be a foul or two points. He's a great player and I feel like we play well with each other."
Read on for more notes from Monday's action:
* COACH'S TAKE: PRAISE FOR IVERSON, HOLMAN: Larranaga spread his praise around after the lopsided win -- which tied the fifth-largest differential in Orlando Summer League history -- but singled out some under-the-radar big men. "Guys played really well. I think they defended and rebounded for the most part, got contributions from a bunch of different people," Larranaga said. "Second quarter [the Pistons] did a good job of getting back into it a little bit, and we, I think, got a little too comfortable with the lead. I think Colton Iverson in particular [played well] and Eli Holman as well. Colton plays so hard and so physical that he really impacts the game. I was really happy for him." Iverson didn't put up a shot over 13 minutes, but was a team-best plus-29 in plus/minus. Holman had seven points and six rebounds in a mere 11 minutes of floor time.
* FAB'S HAT TRICK: Fab Melo had another up-and-down day, but his afternoon was highlighted by three charge takes (which he sold each time with loud outbursts as he hit the floor). Said Larranaga: "He took three charges today and [assistant coach] Jamie Young said that was a hat trick of charges. He's just got to keep getting better." Melo was active and talkative on defense, but had more dunks blocked (2) than he swatted himself (1) and got dunked on hard by Detroit's Tony Mitchell. Melo finished with six points and three rebounds over 19 minutes. Larranaga said he's trying to break up Melo's minutes in order to keep him as fresh as possible, believing more rest will help Melo play more instinctively as he gets up and down the floor. Offered Celtics coach Brad Stevens: "[Melo] took a few charges today, I thought he played more physical today. I thought he was really engaged. He had a couple of shots at the rim that he would probably like to have back, but he also had a couple of good finishes."
* BIRDMAN, BIRDMAN: Celtics legend Larry Bird, back in his post as team president of the Indiana Pacers, held court with reporters on Monday and tackled numerous hot-button topics around the league, including a few Boston headlines. Hop HERE to read Bird's take on the departure of Kevin Garnett and Paul Pierce.
Bird zinged old friend Danny Ainge when asked about the rebuilding Celtics. "Danny Ainge knows what he's doing and he's had great success, he's won a championship. I never doubt Danny Ainge. I only doubt him when he has the ball in his hands with three seconds to go, but not in the position he has now," Bird said.
Bird also tackled Boston's hiring of 36-year-old Stevens. Asked for a scouting report, Bird, who suggested he wasn't surprised by Stevens making the leap to the NBA after he suggested he "sniffed" around about openings in the past, offered, "He is very patient, he doesn't get too excited. When the players watch their coach and they don't get excited, they play with a demeanor to keep pushing. ... It carries over to his players and that's why [Butler] got so far the past few years."