ORLANDO -- During one first-half sequence on Tuesday, Boston Celtics second-round draft pick Colton Iverson got hit near the mouth, leaving him with a dab of blood on his jersey and needing to count his teeth. Moments later, he took a knee to the ribs while trying to defend the rim. But when trainer Ed Lacerte shuffled over to check on him, Iverson politely sent him the other way. Nothing to see here.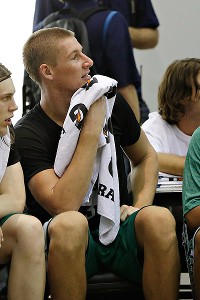 AP Photo/John Raoux
Celtics second-round draft pick Colton Iverson on the bench.After 20 ultra-physical minutes while helping the Celtics top the Pacers 76-74 on Day 3 of the Orlando Summer League, a smiling Iverson stood in a hallway of the Amway Center looking no worse for the wear. And while players trudged by with oversized ice packs on their bumps and bruises, Iverson showed off his lingering black-and-blues.
"I don't do that stuff," Iverson said of his lack of ice packs. "Unless it's mandatory."
And despite his penchant for contact, Iverson said he rarely needs the pain-dulling benefits of ice.
"I feel great," he said. "I'd go play again right now if I wanted to."
Reporters pried about his tough-guy stance, but he just shrugged. He's never had surgery, never missed a game or a practice. Sitting out a drill might break his heart. Opponents haven't been nearly as fortunate.
"I've broken a few bones," he said with another smile.
Iverson spent the first couple of days of summer league doing the dirty work, setting hard screens, running the floor and rebounding. Drawing a start on Tuesday, he decided to actually take a shot (making two of three attempts) while contributing five points and four rebounds.
"He's just a big, tough, hard-playing dude," said Celtics assistant coach Jay Larranaga, who helms the summer squad. "I think his teammates love him because he's going to get you open, he's going to get you extra possessions, he's going to be there when you need help. He's still learning a lot about the NBA game, the NBA rules -- I think he'll become a better and better defender as he learns what he can and cannot do from a physicality standpoint. I think he's doing really well."
Iverson noted that Celtics second-year forward Jared Sullinger, serving as an unofficial assistant coach while rehabbing from back surgery, has been helping him learn the intricacies of the NBA game. With Boston facing a potential roster logjam in the frontcourt, the 24-year-old may be forced to bide some time overseas next season. Iverson is just trying to make an impression with his relentless play this summer and perhaps convince the Celtics to keep him closer to home.
"That's just the way I play, I'm going to give it all I've got every possession," he said. "I know that's how I'm going to find a spot on a team in the NBA. I don't have the best offensive game, obviously [first-round pick] Kelly [Olynyk is] a real talented scorer and you can see that every game, he's putting up big numbers. I just have to do the dirty work, get rebounds, get stops, just not let anybody score on you, play good team defense and make the hustle plays."
You can't help but love Iverson's attitude. The 53rd pick in last month's draft was asked about his rebounding talents and an ability to time his leaps. He joked in response, "Except for [Monday]."
Iverson made highlight reels for all the wrong reasons on Monday when Detroit's Tony Mitchell missed a breakaway slam and the ball shot skyward (seemingly to the ceiling). As it screamed back down from space, Iverson mistimed his jump and the ball rocketed off the top of his head.
"I just played it off that I was trying to make a soccer move and head butt it backwards for the outlet pass," Iverson quipped. "I think as long as I'm laughing at myself, it makes it easier."