ORLANDO -- Even with their summer squad, the Boston Celtics crave players who desire success. The sort who want to win as much as Rajon Rondo does in a game of Connect Four, evidently.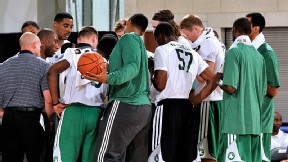 Fernando Medina/NBAE/Getty Image
The Celtics huddle up on Tuesday at Orlando Summer League.That's the playful example that assistant coach Jay Larranaga offered after Boston picked up its second consecutive summer triumph, edging the Indiana Pacers 76-74 on Tuesday afternoon at the Amway Center. Boston vaulted to the top of the summer league standings after the victory and players suggested that competing for the tournament title is an important goal for them this week.
"It speaks to the character of the players that [director of player personnel] Austin [Ainge] and [president of basketball operations] Danny [Ainge] have picked for our summer league team," Larranaga said. "This is the beginning of the 2013-14 season for us and we need self-motivated guys, guys from winning programs in college or that have won before. Winning should be important, no matter what you're doing. We have guys like that [on the Celtics' roster], like Rajon -- winning Connect Four is important to him. As many guys as you have that want to win -- that are motivated to compete and win and not just go out there -- it's important."
Rookie Kelly Olynyk put together another sharp outing, scoring a game-high 21 points on 9-of-19 shooting to go along with nine rebounds and four assists over 30 minutes. Phil Pressey, the roster hopeful looking to earn a training camp invite this week, cut down his turnovers (2) and chipped in five assists and 11 points, scoring the game's final two points at the charity stripe to break a late tie.
"Phil, one of his greatest strengths is his mental toughness, his confidence in himself," Larranaga said. "And I think, from a team standpoint, having a point guard that has that confidence, you can put the ball in his hands at the end of the game and know he's going to make free throws. That was big. I'm very happy for him."
The Celtics escaped with the win when Donald Sloan's open look at a 3-pointer in the final seconds clanged off the iron. A point system in which teams earn points for not only winning games, but quarters, could help Boston earn a lofty spot in the championship-round matchups on Friday.
Larranaga likes that, in a weeklong tournament that often caters to individual goals, his team is trying to win as a group.
"I don't think I've brought [the need to win] up at all," Larranaga said. "We've been focusing on what coach [Brad] Stevens has talked about with the process of having good practices, having good games, playing the right way. Just asking ourselves: What's important right now? It's nice that they're talking about that, talking about a team goal, as opposed to how a lot of guys come in just with individual goals like, 'I want to make an NBA team,' or 'I want to score a lot of points.'"
Read on for a few more notes from Tuesday's game:
* KO PUNCH: With all the typical summer league disclaimers, Olynyk has shown he has an NBA-ready offensive arsenal over three games and even his established teammates seem excited to play with him. "Oh man, big boy can stroke it," noted Courtney Lee, who, along with Jeff Green, took in the Celtics' summer league win on Tuesday from the sidelines. "I saw him hit that 3-pointer in transition the other day, I was impressed. He has good touch, good footwork, can stretch the floor. When he sets those picks, he's definitely going to be an option on the pick-and-pop because he can shoot. He's definitely going to help us." Olynyk beat himself up for a couple of late-game misses on Tuesday when the Pacers made it interesting, but his smoothness on the floor suggests his game will translate immediately to the NBA level.
* VETS GET SUMMER WORKOUTS: Lee noted that he's been working out with teammates as they cross paths this summer. He hasn't seen Rondo, but knows he's getting his knee right. "Rondo's still in the process of rehabbing, making sure his knee gets back to 100 percent," Lee said. "I'm sure he's on a different workout plan than most of us are right now, and that's the most important thing for him right now. The time will come. When we report back to camp [in September], I think he'll be able to go, and we'll get back to working out together." Both Lee and Green were expecting Avery Bradley to drop into Orlando soon and like how these offseason workouts promote chemistry. "We're bonding, we're building chemistry," Lee said. "It's only going to help us."
* GREEN READY FOR NEXT STEP: After a strong finish to the 2012-13 season, and having a bit of a breakout postseason against the Knicks, Green sees bigger things ahead, especially as he gets further removed from heart surgery. "I look at the end of last year as being the point in the season where I think things kind of turned the corner for me," Green said. "I feel like this year is going to be another level that I can take my game to after heart surgery. I'm just taking it one day at a time, just trying to get better. It's been a long road, as you guys know. I'm looking forward to what's to come this year and what I can do on the court."