WALTHAM, Mass. -- The Boston Celtics effectively closed the door on a summer blockbuster by formally introducing the players acquired from the Brooklyn Nets during a press conference Monday at the team's training facility. But the shuffling is far from over.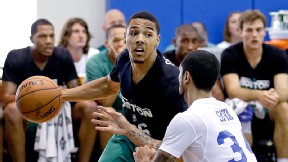 AP Photo/John Raoux
After a strong summer, Phil Pressey could land a spot on the Boston roster.Little more than an hour after formally introducing Kris Humphries, Keith Bogans and MarShon Brooks (along with Gerald Wallace, who was excused for the start of his youth basketball camp in Alabama), the team began the process of organizing its roster by waiving Kris Joseph, who also was acquired in the deal but had a non-guaranteed contract.
Boston's roster currently stands at 15 signed players, only one of which remains on a non-guaranteed deal (Shavlik Randolph). The Celtics appear to want to add both undrafted point guard Phil Pressey and Brazilian center Vitor Faverani, and will have to decide whether unsigned second-round pick Colton Iverson will remain with the team.
"We have some work to do," Celtics president of basketball operations Danny Ainge admitted. "We have a few too many guaranteed contracts. We have to make some adjustments. We're very busy trying to put the best team on the court. There could be some changes this summer."
While many have wondered if the Celtics will turn around and trade some of the newly acquired assets -- a process complicated by the collective bargaining agreement as players such as Humphries and Wallace can only be dealt individually in the immediate aftermath of the Nets deal -- Boston appears to be assessing all of its options before additional shuffling occurs.
"I think everything is in flux for the next few months," Ainge said. "We have a little bit of a logjam at our big positions. We have a little bit of a logjam at the shooting guard position. So there's some decisions and some choices that we're going to have to make over the next few months."
A quick rundown of where things stand with individual options:
* Pressey shined for Boston at the Orlando Summer League and sources told ESPN that Boston was looking to sign a short-term deal with the undrafted point guard. Said Ainge on Monday: "We're having conversations with Phil. Nothing's official."
* There's been a buzz for the past week that the Celtics are interested in the 6-foot-11 Faverani, a 25-year-old center who has been playing professionally in Spain. Yahoo! Sports reported the sides had agreed in principle on a three-year deal, but Ainge said later, "We are still in discussions with -- that's all I know."
* Iverson, the 53rd pick in last month's draft, had a strong professional debut in Orlando, showing that he can be a 7-foot bruiser who sets hard screens, rebounds and plays with a relentless motor. The question is whether Boston can find roster room for him, particularly if the frontcourt remains overcrowded. Boston could stash Iverson overseas for a year (he gets a modest payday and experience; Boston gets valuable roster space), but Ainge said the team is still determining the best plan for Iverson.