A trio of noteworthy leftovers after the Boston Celtics introduced some of the acquired players from a blockbuster swap with the Nets on Monday: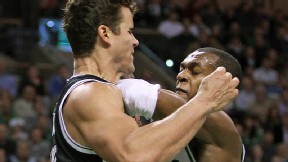 Jim Davis/The Boston Globe/Getty
The Rondo-Humphries dust-up from last season.THE RONDO-STEVENS MEETING
After spending four days at summer league in Orlando, new Celtics coach Brad Stevens returned home to Indianapolis last Thursday. He hadn't even unpacked when he hopped in his car and made the two-hour trek to Louisville to meet with All-Star point guard Rajon Rondo at his youth basketball camp. How did that meeting go?
"We just sat down for an hour, or an hour and 15 minutes, and I thought had a nice sitdown," Stevens said. "We talked a lot about life, we talked a lot about basketball. We hit on neither exclusively, we just talked. I found him to be very insightful, very intelligent. And that was consistent to what I had heard from those who knew him best. I'm really looking forward to spending more time together. I know he's working really hard on his rehab, and he was actually at rehab, then came back to his camp and then we both spoke to camp real briefly and I took off. He was great."
A HUMPHRIES-RONDO MEETING?
New Celtics big man Kris Humphries joked he knew the question was coming when asked during the press conference Monday about last season's dust-up with Rondo that left Boston's point guard suspended for two games. Rondo came to the defense of teammate Kevin Garnett when Humphries knocked him down during a November meeting in Boston. Rondo and Humphries got tangled and spilled into the crowd below the baseline, leading to Rondo's ejection and subsequent two-game ban. Have the two talked since Humphries was dealt to Boston?
"I haven't talked to him, but I think we'll have a good relationship," Humphries said. "I think things happen within the game. If you look at it, it really was nothing. The media tries to blow things out of proportion. I think we'll come in and obviously I've got to do my part to earn his respect in terms of playing hard and contributing to the team and we'll just go from there."
Celtics president of basketball operations Danny Ainge needled Humphries, suggesting he flopped because the big man allowed Rondo to overpower him too easily during the scrum.
5, 34 IN THE RAFTERS
Ainge spent a good deal of time Monday reflecting on the emotional side of trading away franchise icons Paul Pierce and Garnett. While we all know Pierce's No. 34 is bound for the rafters at TD Garden, there's some debate about whether Garnett's No. 5 belongs up there as well after six seasons in Boston. Ainge sided with what most observers when he noted Garnett should be honored as well.
"If it were my decision, their numbers would be hanging in the rafters some day," Ainge said. "Their legacy has been made here in Boston and they still have basketball left in them. At the same time, we're still going to want to beat them. Those guys were great for the city of Boston, great for the Celtics franchise and great for all of us that were associated with them."
While discussing the opportunity to trade Pierce and Garnett together, Ainge added, "They're great people and they've done a lot for our city and the fact that they get to go together and play on a team where I think it will be an ideal fit for them because they don't have to carry a heavy load, because they have three other All-Stars on their team and they have a great deal of depth, it's pretty ideal for them. Collectively, individually, there were no better offers for us over any time over the last few years. So it was an opportunity of, rather than having KG play one more year and us not be the standard we had hoped to be and Paul with one year left on his contract, it definitely was the right move for us in trying to fast forward the rebuilding process."