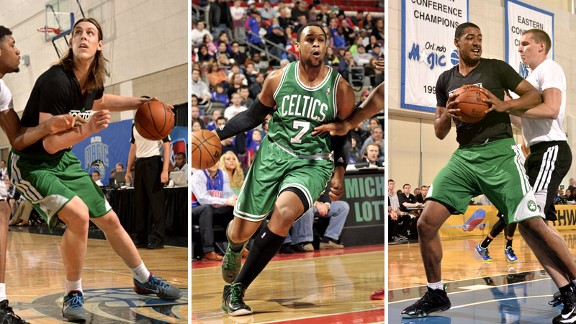 Getty Images
Kelly Olynyk, Jared Sullinger and Fab Melo all should see significant floor time this season.
With Kevin Garnett off to New York, Boston moves on to the task of rebuilding its frontcourt around some fresh-faced bigs. ESPN's Amin Elhassan breaks down how four of Boston's "big" draft picks -- Jared Sullinger, Fab Melo, Kelly Olynyk and Colton Iverson -- could help that process along:
The smoke has cleared and the rubble has finally settled after the Boston Celtics hit the reset button and took the first steps toward their future.

A rebuild can be a long and arduous process, especially because the organizational effort to get as bad as possible before becoming good again can test the patience of its fan base, locker room and most important, its ownership.

Sports teams are selling one of two concepts: "championship" or "hope." The Celtics have made the shift in sales pitches, and a large part of their "hope campaign" could rest on the sizable shoulders of the cadre of young bigs they've acquired in the past two drafts. In a way, the Celtics are building their own massive wall, their version of the Green Monster.

[Insider] offers a scouting perspective on the four frontcourt players expected to ease Boston's transition and what the fans, team and ownership can expect of them:
To read the full insider piece, hop HERE.