On the 20th anniversary of Reggie Lewis's death, Comcast SportsNet will debut a 90-minute documentary on Sunday at 8 p.m. reflecting on his life. Director Torey Champagne provides a powerful look at Lewis, tracing a basketball journey from his native Baltimore to Northeastern University and his time with the Celtics.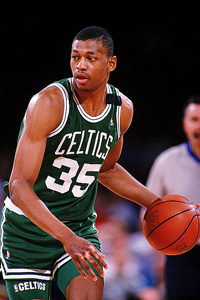 Tim Defrisco/Getty Images
Former Celtics star Reggie Lewis.Here's more on the doc from the network:
Reggie Lewis lived an exceptional life in the limelight as a basketball phenom, from his younger days in Baltimore, Md., to his exemplary college career that put Northeastern University on the basketball map, to his drafting by the Boston Celtics and receiving of the captain's torch from Larry Bird -- no doubt that Reggie's was a life of talent and promise. In July 1993, as the young star was quickly becoming the face of the Celtics franchise, Reggie collapsed and died of heart failure during a team practice. For Boston sports fans, Reggie was a touchstone figure in the city's sports history, but the full story of his life and untimely death on the court has never been told with great depth -- until now.

On Sunday, July 28 at 8 p.m., Comcast SportsNet will debut a 90-minute documentary "Remember Reggie: The Reggie Lewis Story" presented by New England Ford Dealers, recounting the life of Reggie Lewis on the weekend of the 20th anniversary of his death. The program, produced fully by Comcast SportsNet, will be narrated by Boston media personality Glenn Ordway and will feature in-depth interviews with some of the most important and iconic people in Reggie's life -- family, friends, teammates, coaches, colleagues, doctors and more, including high school classmate and NBA colleague Muggsy Bogues; Northeastern coach Jim Calhoun; Celtics teammate Dee Brown; respected journalists Bob Ryan, Jackie MacMullan and Dan Shaughnessy; Reggie's mother; his sister, and many more.

"In my office I always had a picture of all my kids -- and Reggie. I'll miss him forever, he was like a child of mine," Calhoun said in the documentary. "I remember Reggie hitting game-winners. I remember Reggie being drafted. I remember Reggie being captain of the Celtics. I remember so much positive and great things about Reggie Lewis that nothing in this world can ever take that away from me, until the day I die."

"You know, people just don't understand -- life can be taken away from you just that quickly," former teammate Bogues said in the film. "He reached the highest pinnacle that he had envisioned for himself, which was the NBA. I just miss him."

Starting the story back in Baltimore where Reggie's basketball days began and journeying through time to that unforgettable day on July 27, 1993, Comcast SportsNet will tell the story that has never been fully told in this exclusive documentary.

Immediately following the documentary, Comcast SportsNet will feature a special live edition of Sports Sunday that will be Reggie Lewis themed and will feature a cast of panelists talking about Reggie's life. The panel will include Ordway and Michael Holley, among others, discussing Reggie's history, his rise to fame and "what could have been".
The Worcester Telegram & Gazette's Bill Doyle has more on the documentary and director Champagne in this week's Tuning In column.
"I felt it very important to get everybody's perspective," Champagne said of the film, "and let them speak for what they knew and what they were involved in, rather than trying to come to a conclusion. I just let it be. I felt it was fair to Reggie, his family and friends and to the people that were inside the situation."