Your friendly blogger is vacationing here in the Carolinas, where there's a tangible moroseness after local boy Shavlik Randolph was waived by the Boston Celtics (or it might just be a pesky rain that's lingered recently). Here are a few (not-so rapid) thoughts on Boston's decision to part ways with Randolph before his contract became fully guaranteed on Thursday: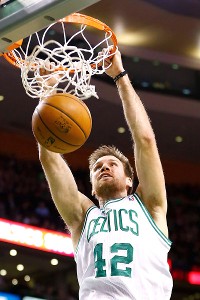 Jared Wickerham/Getty Images
Shavlik Randolph at work for the Celtics last season.* A NUMBERS GAME: The Celtics had a logjam at the power forward position and too many bodies overall. Cutting Randolph helps bring the number of guaranteed contracts down to the regular-season maximum of 15 and reduces the payroll a tiny bit. It seems to indicate that Boston isn't overly confident it can move any of its other big men, or simply needs the space elsewhere on the roster moving forward. With the team on a youth movement, the Celtics might have simply viewed the soon-to-be 30-year-old Randolph as luxury depth, but someone who might have bit into minutes of younger players (guys that better fit the team's future).
* DESERVES A HOME: Randolph is an endearing story given how he resuscitated his NBA career with Boston last season (this after essentially being out of the league for much of the previous six seasons and making just 38 appearances in that span from 2006-2012). Randolph showcased his rebounding abilities late in the regular season (he grabbed 26.3 percent of all available defensive rebounds and 22.4 percent of all caroms overall), but played only three minutes in the playoffs. Randolph deserves to latch on with an NBA team and continue his quest to stick in the league. A mid-summer release won't help his cause as teams have spent much of July filling up their rosters, but a squad with roster space and need for a serviceable big man could do worse than giving Randolph a chance.
* SALARY RESET: By releasing Randolph, the Celtics are now committed to roughly $72.5 million next season with the current 15-man roster (second-round draft pick Colton Iverson remains unsigned and was expected to play in Turkey next season). Boston is still slightly over the luxury tax line ($71.75 million), but comfortably on the apron (the team is hard-capped at $75.75 million overall). With a chance to help ease future tax burdens, Boston would love to get below the tax line at some point this season, but it still has a little more juggling to do to get there.
* MORE MINUTES FOR YOUNGER PLAYERS: The Celtics still have a surplus of big men and this move could indicate that Boston simply plans to lean on its younger talent up front, all while going small (rookie Kelly Olynyk is one of the few pure 7-footers (not named Fab Melo), and even he prefers to play on the perimeter). Olynyk had a great summer (besides the recent bout with plantar fasciitis) and Jared Sullinger is working his way back from back surgery. Boston can lean on that young duo at times, while Kris Humphries still needs minutes while trying to revitalize his own career (and increase his trade value?) after a down season in Brooklyn. Add in familiar starter Brandon Bass and Boston still has a lot of undersized big men on the roster, along with an intriguing rookie in first-year center Vitor Faverani arriving from Spain.