The Fab Melo era is over (before it really even began). A handful of lingering thoughts after the Boston Celtics traded the second-year center to the Memphis Grizzlies on Thursday in exchange for the nonguaranteed contract of Donte Green: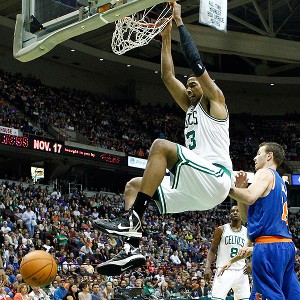 Mark L. Baer/US Presswire
Fab Melo won't be dunking in Boston any more.* Fab's Follies: Melo will ultimately be remembered more for what happened off the court in Boston than on it. From squashing a folding chair at rookie orientation to walking into a door frame and concussing himself (this while playing the most inspired ball of his pro career in the D-League), Melo lived up to his reputation as being a bit aloof.
* Fab Mania: Despite the painfully obvious fact that he wasn't quite NBA ready, at least not on a veteran team, fans genuinely wanted a glimpse of Melo (even if it was just a trash-time celebration). After a few big D-League performances created some over-caffeinated buzz, including a ridiculous triple-double, the Celtics recalled Melo on Jan. 2, eliciting a new year hysteria (which ignored the fact that he had just concussed himself on a South Dakota door frame). It turned out he was just recalled to be examined by team doctors and never suited up. When Rajon Rondo hollered from across the locker room that night to inquire if Melo would be sitting with his teammates on the bench, Melo hollered back in his booming, accented voice, "If I fit!"
* C's rolled dice with Melo: This is not to absolve the Celtics from misfiring on Melo with the 22nd pick last year -- even if late-round picks can be a crapshoot at best -- but after the team watched Jared Sullinger plunge into their lap at No. 21, members of the front office felt like they could take a risk with the very next pick (one secured from Oklahoma City as part of the Jeff Green deal). Boston simply badly misjudged how raw Melo was and it became painfully obvious a year later at summer league that this was going to be a long-term process (and one that might never bear fruit). But when a team in transition and one thin of pure size at the center spot isn't willing to commit to you, it's a bit telling about what the team thinks of your development thus far.
* A victim of numbers: The Celtics have made it clear they don't desire to be in the luxury tax this season and were about $800,000 over that line before this move. They are still about $500,000 over with Greene on the roster, but can dip below at any point by waiving his nonguaranteed deal. The move suggests to me that the Celtics are not entirely confident they can move some of their bigger-ticket big men and made a smaller move to ensure they have the financial flexibility to avoid the tax (and the repeater rates that loom down the road when Boston hopes to be a contender again). More moves could loom, but it appears it might be in-season shuffling.
* Cash considerations: The Celtics (quietly) also sent cash considerations to Memphis in this deal. The undisclosed amount of cash could just be enough to cover the difference in salaries (Melo's contract is roughly $300,000 more than Greene this season), or it could enough to help pay much of Melo's 2013-14 season. Memphis was already close to the luxury tax line before the deal and will inch a bit closer after it by taking on a guaranteed contract.
* Final thoughts: There's a NBA-caliber defender inside Melo's 7-foot frame. The question is whether a team will commit itself to prying it out. Melo likely needs a situation where he can be thrown to the wolves a bit and learn on an NBA floor. The Celtics seem to prefer to give their frontcourt minutes to the likes of youngsters Jared Sullinger, Kelly Olynyk, and fellow Brazilian import Vitor Faverani (or even a vet like Kris Humphries and let him re-establish his value). Teams hate to give up on their picks, but Boston swallowed hard hoping the financial implications and increased minutes for other players will help the team more in the future than Melo would.