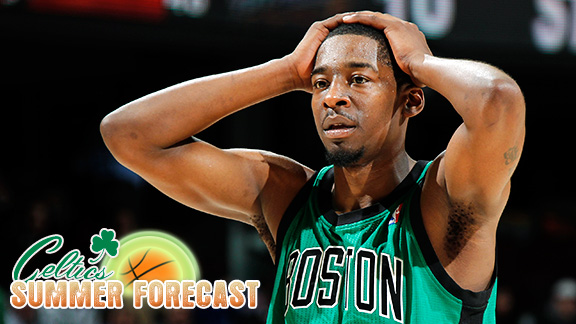 Gregory Shamus/NBAE via Getty Images
Will Jordan Crawford still be here when the regular season tips off?Each weekday for a three-week span, our summer panel of prognosticators -- a motley crew featuring our friends in the Celtics blogging community -- will join forces to tell you how the 2013-14 season will play out for Boston. We'll gaze into our crystal balls and attempt to answer all your questions before this season's team even hits the floor together for the first time.
Today's Celtics Summer Forecast topic: Which player won't make the opening-day roster?
SUMMER FORECAST 2013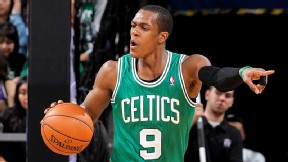 For three weeks in August, we'll break up the summer doldrums by trying to predict exactly how the 2013-14 season will play out for the Boston Celtics. A rundown and recap of the series:
We couldn't even pose this question before the Celtics (sort of) answered it. Boston traded second-year center Fab Melo to the Memphis Grizzlies on Thursday along with cash considerations to bring back the nonguaranteed contract of Donte Greene. Barring any additional offseason moves, it's likely that Boston will waive Greene and save $1 million in salary, dipping them below the luxury tax line -- something that president of basketball operations Danny Ainge has stressed his team in transition desires to do in order to help avoid looming repeater penalties in future seasons.
The Celtics currently have 14 guaranteed contracts on the roster, but we'll still pose the question as part of our summer series: Who won't be here when the regular season begins?
The guess here? Jordan Crawford. The Celtics cleared a little bit of their frontcourt logjam by dealing away Melo, but there's still a surplus of shooting guards. Crawford became expendable when Boston brought back MarShon Brooks as part of the blockbuster swap with the Brooklyn Nets.
With the uncertainty surrounding Rajon Rondo and his recovery from a torn ACL, there's a line of thinking that Crawford and his passing skills could hold value as a ballhandling guard should Rondo not be ready for the start of the season. But, ultimately, the question is whether Boston sees a long-term future with 24-year-old Crawford (who is due $2.1 million this season and is pegged for a $3.2 million qualifying offer next season). At the moment, it's hard to see where he fits.
Alas, it takes two to tango and Boston needs to find a home for Crawford. Acquired at the trade deadline, Crawford averaged 9.1 points and 2.5 assists over 21.6 minutes per game in 27 appearances for Boston. He appeared in five playoff games, but his most memorable moment might have been barking at Carmelo Anthony after a Game 5 win in New York.
Votes were split among our panelists, with 36.3 percent suggesting that Boston will make no further moves (at least before the start of the season). Crawford was the most popular player predicted to move, garnering 27.2 percent of the vote. Three other players: Brandon Bass, Gerald Wallace and Kris Humphries received at least one vote apiece as well.
---
John Karalis, Red's Army (Crawford)
By November? I doubt anything big will happen by then, which means Humphries and Wallace will get a chance to play and audition for other teams that might have a need for one of them at the trade deadline. The Celtics do need to address the logjam at the 2-guard, so I'm sure they'll basically tell teams Crawford can be had for nothing. That might be more wishful thinking than anything else, but the team does need to ditch someone and someone has to be willing to take him for free.
---
Bass is good enough to be a contributor on a playoff team, which isn't in the near future for this team, and his replacement is already on the roster in Jared Sullinger. Bass seems the most reasonable piece to move who has legitimate value in a trade.
---
Only Crawford is gone by Oct. 30, as Ainge finds someone to take him for a conditional pick in 2062, allowing the Celtics to further slide beneath the luxury tax. I think that, by the time the trade deadline hits in February, Bass and Courtney Lee will have new homes, and, if anyone will bite on Humphries (without giving the Celtics salaries that bog them down in 2014 and beyond) he will be gone, too. When push comes to shove, Ainge is going to move the guys who are highly unlikely to be here for the next era of greatness (or merely above-averageness) to allow players like Sullinger and Kelly Olynyk to get the playing time necessary to develop. However, a bigger deal, like one for Bass or Lee, is more likely to happen closer to the deadline, when a contender who is only a piece or two away might be a little more desperate to make something happen.
---
Jared Weiss, CLNS Radio (Humphries)
With Melo out, the next guy up is Humphries. Although Humphries would be a valuable player to the worst rebounding team in the league, Ainge will have a special "Hump Trade Inquiry" line installed on his office phone. There will be some team out there looking at its own roster during the preseason and realizing how badly it needs to rent some size, or get into the 2014 free-agency sweepstakes. While the Celtics would love to make a run at a big-money free agent, they would be just as happy to secure a young talent and avoid the massive risk of a wide-open free-agent market. With Bass, Sullinger and Olynyk all preferred down the road over Humphries at the 4, he will be the top priority on the chopping block.
---
I don't think the Melo trade is the end of moves this offseason. The roster is still completely out of balance, and I believe either Bass or Crawford has to go. Both players are redundant compared to the other players at their respective positions, and another point guard or center should be added. I think Bass makes the most sense to deal for a true center. Teams know what they are going to get from Bass, and I don't think his value would rise if Ainge waited until the trade deadline to shop him. If Bass is dealt to open up a roster spot, a veteran point guard or center could be brought in to balance the roster.
---
Blasts from our bench
• Jay Ouellette, Red's Army (No moves): I think the roster will remain intact for the early part of the season, showcasing (thus another factor that will contribute to unintentional losing) the guys they want to trade. By the All-Star break, you'll see more activity than you would before November.
• Jonathan Lemons, CLNS Radio (Wallace): At 31 years old and with 12 seasons in the league, Wallace has a lot of mileage on the tires, and his game, which relies almost entirely on his athleticism, is in decline. That, and the fact that he is owed $30 million over the next three seasons, makes him a poor fit for this Celtics youth movement.
• KWAPT, Red's Army (No moves): Owner Wyc Grousbeck and Ainge will stand pat, at least until the trade deadline.
• Jon Duke, Celtics Stuff Live (No moves): It won't be from lack of trying, but Ainge will have a hard time moving any of these players prior to the start of the regular season. However, once injuries take root and team needs become apparent, it will be Lee, Bass and Humphries drawing the most interest.
---
Your Turn: We hope you join the conversation. Vote in our poll and sound off in the comments with your prediction for who won't be around on opening night. Hop HERE to read the full Summer Forecast series.
---
(Chris Forsberg can be reached at espnforsberg@gmail.com or on Twitter @ESPNForsberg. Hop HERE to submit a question for his Celtics Mailbag.)