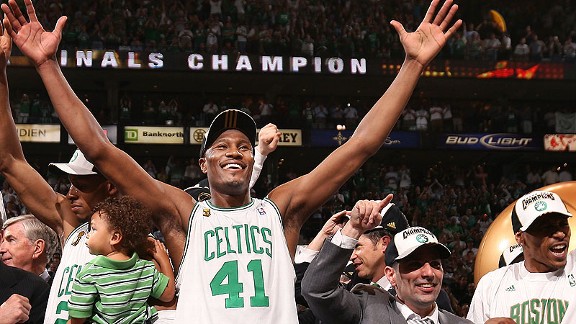 Nathaniel S. Butler/NBAE/Getty Images
James Posey celebrates after the Celtics won the NBA Finals in 2008.James Posey, a beloved member of the Boston Celtics' 2008 championship team, is a candidate fill out Brad Stevens' coaching staff, a source told ESPN.com's Jeff Goodman.
Stevens built his staff initially by bringing in Ron Adams, a longtime NBA assistant, and Micah Shrewsberry, one of his former assistants at Butler. With a potential desire to add an ex-player to his staff, the 36-year-old Posey is an intriguing option given his ties to the organization and his recent entry into the coaching world. Boston also retained assistant coaches Jay Larranaga and Jamie Young from the Doc Rivers regime.
Posey signed with Boston in August of 2007 and was a key role player (and pregame hugger/hand-shaker) on that title squad. He played only one season here, opting out after 2008 and cashing in with the New Orleans Hornets, but he was mobbed by his teammates when he returned to TD Garden the following season and received his championship ring.
The Indiana Pacers used their amnesty clause on Posey in December 2011, effectively ending his playing career. Posey spent this past summer as an assistant with the Cleveland Cavaliers during the Las Vegas summer league.
The Celtics have benefitted from having a former player on their roster in recent seasons, often utilizing Tyronn Lue as a practice body and someone who could give hands-on training to younger players.
Stevens recently sent a letter to former Celtics players inviting them to practices and games as he attempts to establish relationships with members of Boston's tradition-heavy past. Posey's addition could further aid that cause, and he was regarded as a key chemistry guy on that 2008 title team.