Walter McCarty, who spent nearly eight seasons with the Boston Celtics during a 10-year playing career, confirmed to ESPN.com's Jeff Goodman on Tuesday that he will be an assistant coach on Brad Stevens' staff.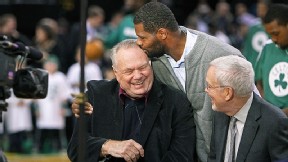 Jim Davis/The Boston Globe/Getty Images
Walter McCarty greets Tommy Heinsohn, who helped create the "I love Walter!" phenomenon.The 39-year-old McCarty landed in Boston in October 1997 after being traded by the Knicks before his sophomore season. He emerged a fan favorite here and "I love Walter!" became a familiar catchphrase for television broadcaster Tommy Heinsohn. McCarty helped Boston to three playoff appearances from 2002-04 before being traded to Phoenix for a second-round pick midway through the 2004-05 season.
James Posey, another beloved former Celtic, and McCarty were believed to be the two top candidates to round out Stevens' staff as it appeared he was seeking a former player. Comcast SportsNet first reported McCarty's hiring.
McCarty joins the staff of the 36-year-old Stevens, who had previously brought on Ron Adams, a longtime NBA assistant, and Micah Shrewsberry, one of Stevens' former assistants at Butler. Assistants Jay Larranaga and Jamie Young were carried over from Doc Rivers' staff.
Boston ties have served McCarty well as he immersed himself in coaching. He served as an assistant under former Celtics coach Rick Pitino at the University of Louisville in 2007. McCarty moved on to be an NBA assistant under former Celtics coach Jim O'Brien in Indiana during the 2010-11 season, but was let go a season later when the Pacers hired Frank Vogel.
McCarty has been a familiar presence in Boston, often sitting courtside during games the past two seasons.