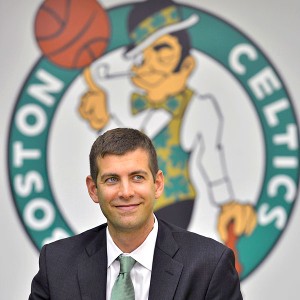 AP Photo/Josh Reynolds
Celtics coach Brad Stevens at his introduction.Sports Illustrated published a must-read article on new Boston Celtics coach Brad Stevens in last week's issue and it's available online now. Here's a snippet on this year's team that closes the article, but the entire article offers an amazing glimpse into how Stevens climbed to the NBA level:
The lifelong learner spent his first six weeks engrossed in not just the details of NBA play and the skills of his personnel, but in grasping the immeasurable mystique of the leprechaun. "Trying to wrap my arms around why it's special to be a Celtic," says Stevens. He sat for an hour with Hall of Fame player, former coach and current broadcaster Tommy Heinsohn and talked on the phone with John Havlicek. He's exchanged texts with Dave Cowens. Much more in the present, he met with Rondo in July at Rondo's camp. "He's a big, big thinker," says Stevens. "Very intelligent, and a numbers guy. Just great talking with him."

In those early weeks Stevens worked to keep his foot near the brake pedal. The task is far too large to conquer quickly. "We're young," he says, "so developing as a team and as individuals is paramount." The schedule mocks him: just six days of training camp before the first exhibition game and 18 games in the first 30 days of the season, 10 of them on the road. "Holy smokes," says Stevens. "Very little time for practice."

Youth will sustain him. When he coached at Butler, he often invited friends like Monk and Burch to play pickup games at Hinkle on weekend mornings, never losing his wonder at working in such a place. Not long ago, Stevens explained the privilege of the game to second-year forward Jared Sullinger. "Man, I miss playing," said Stevens. "I miss trying to win 15 games in a row in open gym. Jogging on a treadmill is not near as much fun." Way back at Zionsville High, Isenbarger instructed him to never leave a gym without making his last shot. Here he stands with a ball in his hands and his laptop waiting on the second floor, wise enough not to take the first shot that would demand he shoot until the last one had fallen, but surely tempted.

He walks through the weight room and up the stairs toward his office. Overlooking the single flight of carpeted steps is a giant portrait of Auerbach, standing in the rafters of the new Garden with a cigar clenched between the teeth of his wicked smile, banners over his head and parquet in the distance. Stevens lifts his chin and smiles at the photo without breaking stride. "No pressure there," he says. And then he is back to his work. Chasing it, thinking it, learning it.
Hop HERE to read the full story from SI's Vault.