The Boston Celtics appear to have three invites lined up for training camp later this month.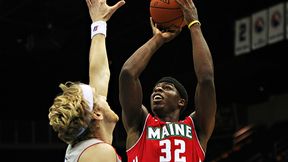 Chris Marion/NBAE/Getty Images
DeShawn Sims at work for the Maine Red Claws.
Last week, guards Kammron Taylor (Wisconsin) and Chris Babb (Iowa State), and forward DeShawn Sims (Michigan), all Tweeted that they'd be camping with Boston. Camp bodies are typically roster longshots, but defray veteran reps, while receiving a chance to showcase their talents for an NBA audience.
One thing to keep in mind with invites is that some could wind up with the Maine Red Claws of the D-League. In recent seasons, Boston has shuffled camp cuts -- those that are often willing to shun more lucrative overseas offers to chase the NBA dream stateside -- to Maine for a chance to develop in Boston's affiliated system.
Last season, the Celtics moved Micah Downs (and late-camp signee Brian Cusworth) to Maine. During the 2010-11 season, Boston shuffled camp invites Stephane Lasme, Jamar Smith, and Tiny Gallon to the Red Claws.
The Celtics currently have 14 guaranteed contracts, plus the nonguaranteed pact of recently acquired Donte Green. Boston can dip below the luxury tax line by waiving Green and his $1 million salary received from Memphis in last month's trade for Fab Melo.
With Rajon Rondo rehabbing from a torn ACL and Jared Sullinger coming off back surgery, the Celtics could benefit from extra bodies at camp to absorb reps.
Sims has had two stints with the Red Claws (2010, 2012). He was a camp invite for Boston back in 2010 after going undrafted. He initially signed in Greece, but left soon to join Maine, where he was a D-League All-Star.
Our friends at CelticsBlog have a bit more on Sims and Taylor.