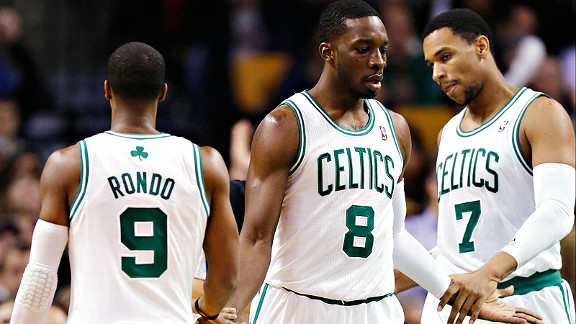 Greg M. Cooper/USA TODAY Sports
There are few certainties in Boston's starting 5 as the 2013-14 season nears.Training camp begins at the end of the month for the Boston Celtics and each weekday leading up to the formal start of the 2013-14 campaign, we'll dive into our Celtics Mailbag and tackle a camp-related question:
Q: There's a month until Boston's first exhibition game of the new season. What's the starting lineup going to look like for this new-look team? -- Sherman (Las Vegas, Nev.)
A: ::shrugs shoulders:: If Rajon Rondo's health wasn't such a question mark, this one might not be so difficult. You can easily envision a starting lineup anchored by the Rondo-Avery Bradley backcourt (those two are the longest tenured players on the team now, after all). But recent chatter by Boston players (both current and past) has suggested that Rondo might not be ready for the start of the new season, and that throws everything off.
Without Rondo, Boston has to scramble yet again for someone to run the point. Bradley said recently that he'd be willing to help stomach those chores, but he's clearly uncomfortable when opponents crank up the pressure, which might have contributed to his all-around struggles in the playoffs last season (though two surgically repaired shoulders conspired against him as well). The Celtics are seemingly better served to keep Bradley at the shooting guard spot. Alas, the only other pure ball-handler on the roster at the moment is undrafted rookie Phil Pressey. Would the Celtics throw him right to the wolves? They might have to. What's the other option, an increased dose of Jordan Crawford? Boston can put a 2-guard (Courtney Lee? MarShon Brooks?) at the point, but it's far from ideal.
Celtics coach Brad Stevens recently noted the difficulty involved in putting in an offense that's tailored to Rondo's game, all without the top point guard available. Stevens told Comcast SportsNet: "What [the backup guard might] do well may not be as good a fit for somebody else. So do you play that way? Start that way knowing that when he is going to come back we don't know yet, or do we change midstream?"
There's no easy answer there and it makes putting together a lineup -- and a playbook -- all the more daunting.
The forward and center spots are slightly easier to predict, though there might actually be even more potential pairings up front. After his late-season breakout, Jeff Green should be the focal point of Boston's offense while manning the small and power forward spots depending on how big/small the Celtics stay at times. Brooklyn Nets imports Gerald Wallace and Kris Humphries are likely to find early minutes, if for no other reason than to showcase themselves (with Boston hoping to drive up their trade value). Let's remember that those two have shown the ability to be quality players (Wallace is a tough defender and a former All-Star, while Humphries was a double-double machine) and a change of scenery might reinvigorate them.
The question up front is how quickly the likes of second-year player Jared Sullinger and rookie Kelly Olynyk could climb to expanded roles. Sullinger ascended to a starter's job last season before his back flared in early February, forcing him to undergo season-ending surgery. If healthy, Sullinger should immediately make the case for a bigger role and it clearly benefits Boston to give the lion's share of minutes to players that are part of its future core. Olynyk has an NBA-ready offensive game that could get him immediate minutes. He is ticketed as another power forward, but he and Sullinger have potential to be a versatile 4/5 combo off the pine.
First-year center Vitor Faverani also could get a chance to show what he can do. As one of the few Boston players with pure center size, Faverani will have increased opportunities if Boston elects to go with bigger lineups. Oh, and don't forget about incumbent starting power forward Brandon Bass, whom the team either needs to find a role for, or trade away to unclog some of the jam at the power forward spot.
* An early starting lineup guess: Pressey (or a veteran guard addition), Bradley, Wallace, Green, Humphries.
* A potential lineup later in the year: Rondo, Bradley, Green, Sullinger, Olynyk.
The key here is that Stevens is going to have options. And what's likely going to dictate how the lineup looks is how these pairings play together. Stevens can mix and match throughout the preseason, then crunch the numbers to see which three-, four-, and five-man combos worked best. Injuries ought to throw a curveball or two along the way as well.
With all these options -- and the potential that Boston's roster could undergo a greater overhaul before the season even arrives -- Stevens has seemingly reminded himself not to overthink things.
"As I get used to [the players] and we get more acquainted with each other, then I'll have a better feel for my thoughts or my opinion on, 'Do we have the right guys in the right places?'" Stevens recently told Comcast SportsNet. "Someone told me all you need is a board that says 'Coach your team.' Everything else can be a distraction."
Your turn: What lineup would you trot out early in the season if you were Stevens? Sound off in the comments.
---
(Chris Forsberg can be reached at espnforsberg@gmail.com or on Twitter @ESPNForsberg. Hop HERE to submit a question for his Celtics Mailbag.)