Kris Humphries' dedication to his development showed last weekend when he arrived in Boston.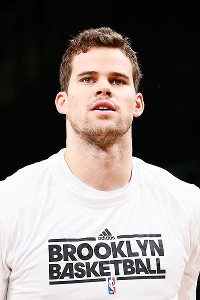 Mark Halmas/Icon SMI
Kris Humphries is excited about a fresh start in Boston."This is the earliest he's ever reported to camp, so he's going to have about three good weeks of work before training camp starts," said his business manager Josh Ketroser. "He wants to get acclimated, he wants to get to know everyone, he wants to really prove to everyone, 'Look, I'm here, I'm devoted, I'm ready to rock and roll.' That's where his head's at. He's looking to have a good year and would love to sign a three- or four-year deal and stay in Boston, and be part of them turning around."
Humphries envisions a brighter future for himself in Boston, starting with the support of new coach Brad Stevens, who called him regularly this summer to check on him and offer motivation. (Interestingly, Humphries' third cousin, Brian Ligon, played for Stevens at Butler.) In Brooklyn, Humphries went from starting to seeing inconsistent minutes to being brought up in trade talks. While he struggled a bit offensively with the Nets -- his rebounding was still strong at 11.0 per 36 minutes -- Ketroser said Humphries was disappointed about his role there.
Now, the potential starting power forward is ready "to compete for a big role" on the Celtics.
"Last year was a tough situation, up and down. For whatever reason, sometimes things just don't work out," Humphries said. "No real fingers to point; I'm just in a different situation now. I'm motivated and I'm looking to make the most out of it. It's funny, of all the places I would end up, I never thought I would play in Boston, but just from being around those guys, it should be exciting. We're out to try to prove that we're a team that can compete every night, and whenever people sort of write you off, it's a lot of motivation.
"I'm not looking to be a part of a tanking situation. I know that [president of basketball operations] Danny Ainge has said that they're not looking to tank, and I'm sure Brad Stevens coming in is definitely not looking to do that. So it's just about competing and bringing it every night. We're going to have to figure out ways to win and continue to get better, and it starts with camp."
Hop HERE to read the full story.