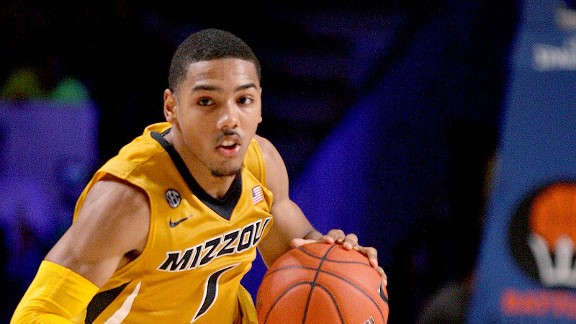 Issac Baldizon/Getty Images
Undrafted Phil Pressey could be thrust into a large role in his rookie campaign with Boston.Training camp begins at the end of the month for the Boston Celtics and each weekday leading up to the formal start of the 2013-14 campaign, we'll dive into our Celtics Mailbag and tackle a camp-related question:
Q: Phil Pressey is clearly the best backup point guard on the roster. Let him make his rookie mistakes. When has there been a better time to learn on the court? -- Duffy (Spring Valley, Calif.)
A: Pressey's situation is fascinating to me. Here's a kid who was derided for electing to declare for the draft after his junior season (heck, even Missouri fans questioned his decision to leave early) and scouts said he was too inconsistent to accurately peg in the draft. Sure enough, despite interest from a good number of teams, Pressey went 60 picks without being taken, only to have old friend Danny Ainge (Pressey's dad, Paul, was part of the Celtics' staff from 2004-07) phone immediately after the draft and offer Pressey the chance to compete for a spot at summer league.
Pressey then calmly displayed his talents in Orlando (9.4 points, 6.6 assists per game), earned an honorable mention on the all-summer squad, and parlayed a steady five-game showcase into a three-year contract with Boston that includes a fully guaranteed first season.
With Rajon Rondo rehabbing from ACL surgery and the All-Star point guard's status uncertain for the start of the season, Pressey is the only pure ball-handler on the Boston roster and has the opportunity for a hefty role when the new campaign tips in Toronto on Oct. 30. The magnitude of what potentially lies ahead doesn't rattle Pressey.
"Every day I'm working to get better," he said Friday while joining some of his teammates for a youth basketball clinic in Dorchester. "One of the things I've been trying to work on is being consistent every single day. In college you can have some days off, and not play your best, but every day [in the NBA] you have to bring your A game. That's one of things I've been working on, and coach [Brad] Stevens has been on me nonstop -- that's helped me out, too."
Pressey noted how Stevens already has sat with him to break down tape, likely stressing the changes he'll see at the NBA level (both sides are learning that on the fly). But his lessons are not just from Professor Stevens. Last week, Rondo spent time rehabbing at Boston's training facility and offered to work with Pressey on the floor. Rondo, who has often taken time after practice in recent seasons to observe younger players and offer his advice, did the same with Pressey. As the rookie noted, "He was in my ear, telling me what I need to do. And every little thing I was doing wrong, he kind of corrected it."
Here's what the Celtics must decide over the next month: With no other pure ball-handler currently on the roster, should they trust an undrafted rookie to steer the car or force a veteran out of position yet again? Fourth-year guard Avery Bradley said this summer that he'd be willing to handle the ball if Rondo wasn't ready, but he struggled in that assignment at times last season and it might be better for Boston to lock Bradley at the 2-guard spot. The Celtics also could put the ball in the hands of Jordan Crawford (whose passing skills are underrated) or Courtney Lee (who pledged to work on his ball-handling after a spike in turnovers last season), but it again pulls those players from their more comfortable shooting guard spot.
In a season in which the Celtics are expected to endure their lumps and for a team that has been desperate to find a low-cost yet serviceable backup behind Rondo, would it not be beneficial to let Pressey learn on the fly?
The exhibition season might ultimately dictate if Pressey can win the coaching staff's trust by proving he's ready for the NBA level. What's clear is that there's floor-general talent inside Pressey -- it's up to Stevens and his crew to extract it consistently from the 22-year-old guard.
Before June's pickapalooza, ESPN draft guru Chad Ford told the Kansas City Star, "Phil Pressey is one of the most frustrating players to scout for NBA scouts and for myself because when you want to talk about a floor general, a guy that can see the floor, he's as talented as any point guard in this draft. He is a special passer who really, I think, can run a team. The problem is he doesn't always see himself that way. And you saw at Missouri, over and over again, as games would get tight, he would start to try to play hero ball, try to do too much, and then commit mind-boggling turnovers and take horrible jump shots and almost single-handedly lose games for Missouri after playing so well for the first 35 minutes. And so, is Phil Pressey the guy that you see in the first 35 minutes of a Missouri game, or is he the guy you see in the last five minutes?"
Pressey displayed phenomenal court vision in Orlando and, when he limited his turnovers, he looked like a very capable quarterback. The knock has been his inconsistent offense, which left teams challenging him to beat them at the college level. According to Synergy Sports data, Pressey averaged a mere 0.749 points per play, ranking in the 34th percentile among all Division I players. He shot just 37.8 percent from the floor overall and just 34.7 percent on all jump shots (though that number spiked to 48 percent on mid-range jumpers from 17 feet to the 3-point line). If opponents take away that mid-range option, Pressey must prove he can be a consistent NBA 3-point shooter (this after shooting just 32.8 percent beyond the NCAA arc last season).
But, defensively, he's super intriguing, particularly the idea of matching him in the backcourt with Bradley. Yes, that's a noticeably undersized duo, but also a very tenacious pair of ball-hounds. According to Synergy data, Pressey allowed 0.768 points per play last season, ranking in the 64th percentile. He excelled defending pick-and-roll ball-handlers but needs to show he can be a more consistent 1-on-1 defender. He can be a pest picking up full court as opposing point guards found out in Orlando.
"A lot of people know my creating and my passing abilities, but they kind of second-guess my defensive abilities -- picking up full-court pressure and guarding guys that are bigger than I am," Pressey said. "I feel like if I can do that, I should be all right."
What's clear is Pressey has an opportunity here and a chance to prove himself to the 29 other teams that passed on him in June. It's on him to prove they made a mistake.
---
(Chris Forsberg can be reached at espnforsberg@gmail.com or on Twitter @ESPNForsberg. Hop HERE to submit a question for his Celtics Mailbag.)