Training camp begins at the end of the month for the Boston Celtics and each weekday leading up to the formal start of the 2013-14 campaign, we'll dive into our Celtics Mailbag and tackle a camp-related question:
Q: Why is everyone sleeping on Brandon Bass? All this talk about who is going to play power forward and no one ever seems to focus on the guy that's held down that position for the last two years. -- Leandro (Costa Mesa, Calif.)
A: You mean the guy that's started at power forward in 108 of Boston's 147 (73.5 percent) regular-season games the past two seasons? The guy who Doc Rivers tasked with defending the opposing team's best player (LeBron James, Carmelo Anthony) in the Celtics' final playoff series the past two years? The lunchpail forward that quietly goes about his business -- the sort that typically endears himself to a Boston fan base that grows tired of the opposite (right, Glen Davis?) -- and with largely positive results?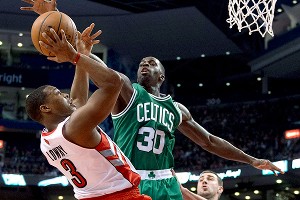 AP photo/Frank Gunn
Can Brandon Bass thrive defensively without Kevin Garnett?Unfortunately for Bass, the traffic jam at his position has caused a lot of folks to overlook him. Given his production and remaining price tag (two years, $13.4 million) some have wondered if he might be a trade asset if Boston saw available power forward minutes going to younger players (Jared Sullinger, Kelly Olynyk). When pondering what's best for the team's future, some even prefer to distribute that frontcourt playing time early in the 2013-14 campaign to the likes of Kris Humphries and Gerald Wallace, who could increase their own trade value with bounce-back years.
And, in typical Bass fashion, he just sorta shrugs it all off. Down at summer league in Orlando, he was asked about how he envisioned his role with the team this season and offered, "I haven't really thought about my role. I just think that I'm going to come in being the best Brandon Bass I can be, and that's all I can take care of."
What's easy to forget is that the best Bass is a pretty good commodity. Certainly his stat lines were aided by being paired in a frontcourt with Kevin Garnett, masking some bad rotations or creating additional space to work in at the other end of the floor. But Bass really came on strong at the end of the 2013-14 season when Garnett was sidelined by injury. That carried over into the postseason where Rivers suggested that Bass played a "perfect" game early in the series against the Knicks.
Fair or not, things are a bit muddy at the moment for Bass. In a way, he sort of has to remind everyone what he brings. He has to prove again that he can be a capable defender (especially without the Garnett safety net). Last season, Bass allowed a mere 0.756 points per play, ranking in the 91st percentile among all NBA players, according to Synergy Sports data. Of those with at least 500 plays defended, Bass ranked fifth in the NBA in points allowed per play (the six spots behind him: Marc Gasol, Larry Sanders, Dwight Howard, Jimmy Butler, Kevin Garnett, and Tony Allen -- that's some pretty good company).
History also tells us that Bass has been a less-effective player coming off the bench or when his minutes dip. Sullinger had muscled his way into the starting job in February last season before a back injury ended his rookie campaign. Both guys are going to want that spot again this season, and now they've got to jockey with the likes of Olynyk and Humphries (and Wallace and Jeff Green) for minutes at the frontcourt spots overall.
I think a lot of people want to see the Rondo-Bass combination again. Bass thrived offensively in the pick-and-pop when Rondo was there to generate good looks and it's probably no coincidence that Bass initially struggled after Rondo went down last season.
Like just about everyone on the roster this season, Bass must prove he's part of the team's future. At 28 years old and with eight seasons of experience, he might also have to emerge as more of a vocal leader, especially being one of the few holdovers in this roster transition.
If observers are sleeping on Bass, it's up to him to wake them up.
[Need more Bass chatter? Our friends at CelticsBlog examined his contributions as well today.]
---
(Chris Forsberg can be reached at espnforsberg@gmail.com or on Twitter @ESPNForsberg. Hop HERE to submit a question for his Celtics Mailbag.)