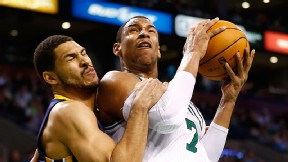 Jared Wickerham/Getty Images
Jared Sullinger muscles his way towards the basket during his rookie season.Training camp begins at the end of the month for the Boston Celtics and each weekday leading up to the formal start of the 2013-14 campaign, we'll dive into our Celtics Mailbag and tackle a camp-related question:
Q: Who on this undersized roster is going to lead the Celtics in rebounding this season? -- Nate (Sioux Falls, S.D.)
A: The Celtics don't have a legitimate 7-footer on their roster and the only player with pure center size is a Brazilian import with no NBA experience (6-foot-11 Vitor Faverani). It's fair to wonder where the rebounds will come from, even as lineups across the league seem to be getting smaller.
Boston's rebounding issues were a bit overblown in recent seasons given coach Doc Rivers' philosophy to essentially ignore the offensive glass. Boston's indifference on that end often dragged down its total rebound rates. We'll find out soon if coach Brad Stevens will put more of an emphasis on crashing the glass and creating second-chance opportunities, but the bigger question mark lies on the defensive end.
If you're handicapping the field for the team's rebound leader, it's likely a two-horse race between Kris Humphries and Jared Sullinger. Even in a down season with Brooklyn last year, Humphries' rebounding rates (18 percent overall; 23.5 percent defensive) would have been better than any returning Celtics player this season. Two seasons ago, those numbers were up at 32.2 percent defensive and 22.1 percent overall when Humphries was a double-double player. Even if the Celtics force him to play the center position and make him battle against more pure size at that spot, Humphries is easily the most proven rebounder on the squad.
The question with Sullinger is if he'll be hindered at all coming off surgery. If, as he stressed earlier this summer, he's completely healed, then his numbers have potential to trend up. During two seasons at Ohio State, Sullinger averaged rebound rates of 19.2 percent overall and 25 percent on the defensive glass. While Sullinger will be giving up size at times up front, he has a nose for the ball and can make up for that with natural instincts when chasing caroms.
After that it gets a bit dicey. Boston lost three of its top four rebounders from last season in Shavlik Randolph (led team in overall rebound percentage at 22.4), Kevin Garnett (15.7), and Chris Wilcox (12.5). Garnett seemingly snatched up every single available defensive rebound during Boston's playoff series against the Knicks. What's more, after losing Paul Pierce, one of the better rebounding swingmen in the league, the Celtics will also likely need an uptick from the likes of Gerald Wallace and Jeff Green.
A closer look at Boston's individual total rebound rates -- the percentage of available caroms each player hauled in -- from last season (with defensive rate in parentheses):
Kris Humphries - 18 percent (23.5)
Jared Sullinger - 17.6 (22.5)
Brandon Bass - 11.3 (15.5)
Gerald Wallace - 9 (13.9)
Rajon Rondo - 8.8 (13.9)
Jeff Green - 8.3 (13.2)
Jordan Crawford - 7.6 (12)
MarShon Brooks - 6.7 (9.5)
Courtney Lee - 5.9 (9.7)
Keith Bogans - 5 (8.6)
Avery Bradley - 4.5 (6.3)
The team has three other fresh faces, including two bigs that could help on the glass. According to Basketball Reference, Kelly Olynyk grabbed 16.5 percent of all available rebounds last season (20.5 percent on the defensive glass). At 5-foot-11, Phil Pressey's rebounding numbers were predictably minuscule (5.4 total; 7.8 defensive) at Missouri.
That leaves International Man of Mystery Faverani as the wild card. After honing his game in Spain, the 25-year-old Faverani will get a chance to earn minutes at the center position. One of the intrigues of the preseason is seeing how he's able to compete -- at both ends of the floor -- with NBA talent. As Boston's only pure center, he can carve out an immediate role if he can impact the glass.