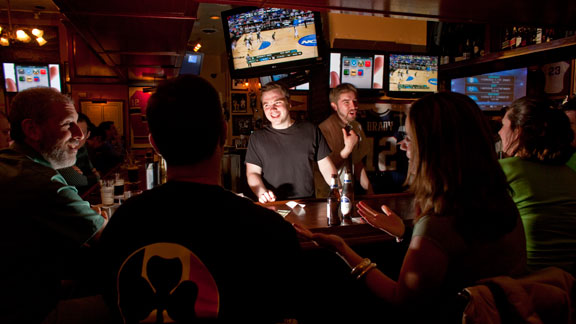 Mark Peterson for ESPN The Magazine
Maybe some day it'll be the (Thirty) Fours in Boston?Former Boston Celtics captain Paul Pierce said he envisions a post-playing day presence in Boston, whether it be as a local businessman or part of the team's front office.
From the Boston Globe:
"Ultimately, what I would like to do is have a business in Boston," he said. "Maybe like a sports bar. I would love to do something like that here. None of the former Celtic great players have come and done that. I thought about it, and why hasn't anyone come and opened up a nice restaurant? You see the Don Shula restaurant, the Michael Jordan restaurant, and Magic [Johnson] got the theaters in LA. Why nobody here? All this history, all these championships and love, why has nobody done that?
To be fair, player-themed restaurants are no guarantee to work (right, Papi?).
The more interesting part of the Pierce blurb to us was his thoughts on whether the success enjoyed by Pierce as part of the Big Three era could help Boston attract free agents in the future:
"I enjoyed it here. Hopefully, the fact that guys like me and Kevin liked it here is a sign to other players that it's a good city to play in. I'm excited about playing in Brooklyn, though. There weren't too many places I wanted to go if I had to leave Boston, but Brooklyn is one of them."
One of the questions I've often heard from fans after the departure of Pierce and Garnett is whether Boston will be able to attract free agents again. The banners hanging in the rafters only go so far. Ultimately, the Celtics have to put together a young team that 1) Shows a potential to compete for another crown and 2) Have the available assets (cap space, exceptions) to sign the sort of players that can aid that quest.
The Celtics were in no position -- with limited roster space and cap room -- to chase free agents this offseason and used portions of the midlevel exception to add a pair of low-cost additions at positions of need in Brazilian center Vitor Faverani and undrafted point guard Phil Pressey.
Next season, when Boston has that $10.3 million trade exception and -- potentially -- increased cap flexibility, we'll find out what type of talent the team can attract. The Celtics will likely be coming off a losing season, but a high draft pick and a team that shows its trending in the right direction could still attract talent. And, as Pierce noted, maybe the success that Garnett enjoyed after making the jump here, will sway anyone on the fence about playing in Boston.