Courtney Lee smiled as he approached the pack of reporters, extended his hand to greet some of the familiar faces, and said he was genuinely excited to see the media members at a late-summer event. All of which perplexed those with tape recorders, because, let's face it, we're simply not used to such an enthusiastic greeting.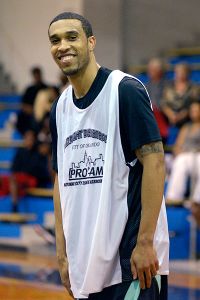 AP Photo/Phelan M. Ebenhack
Courtney Lee was all smiles July 29 during a summer game in Orlando.To Lee, the presence of reporters and all the basketball questions meant the 2013-14 season was inching closer. After a disappointing first season with the Boston Celtics, the 27-year-old guard is eager to prove he can offer more than what we saw during an inconsistent 2012-13 campaign.
"It does humble you," said Lee, who inked a five-year, $21.4 million contract as part of the sign-and-trade deal that delivered him from Houston last summer. Boston gave up little more than end-of-the-roster clutter to bring back a player who many thought could have been the steal of the summer.
But Lee never quite delivered on his "3 and D" reputation, his long-distance shooting off target early in the year and his defense uneven at times. Lee managed to compensate, shooting a career-best 46.4 percent from the floor overall, and he was a starter when Boston played some of its best basketball of the season. But his production dipped nearly four points per game, his turnover rate skyrocketed, and by the playoffs he was largely a spectator, logging just 39 minutes in four appearances during Boston's first-round exit.
To his credit, Lee never sulked, even as he slipped out of Doc Rivers' rotation late in the year. He put in his work, dutifully answered reporters' queries about his own struggles, and pledged after the season to bounce back.
"It does humble you," said Lee. "The first thing about it is just knowing it, and owning up to it. That's what I tried to do. I know I wasn't consistent at all last year, so that's why I've worked, put in numerous hours this offseason getting my confidence back, watching film from previous years. Like I said, I just want to make that transition to this season."