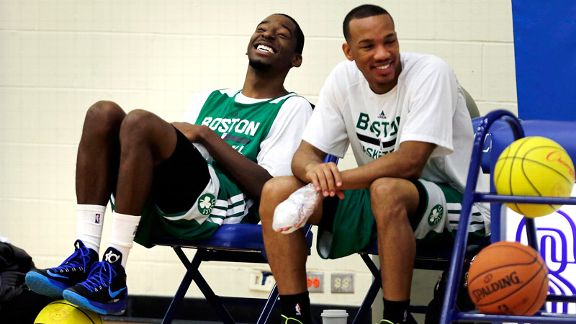 AP Photo/Charles Krupa
Point guards: Jordan Crawford and Avery Bradley at C's camp.NEWPORT, R.I. -- Rajon Rondo clocked an extra hour of on-court activity after the Boston Celtics' morning session at training camp on Wednesday, but watching him navigate the final stages of ACL rehab only highlighted the team's more pressing issue: Boston must find a way to fill his void at the start of the season.
A quick rundown on what we've learned at camp thus far about how the Celtics will replace Rondo:
* The starting point guard role is Avery Bradley's to lose: Even before camp, head coach Brad Stevens hinted that Bradley was the favorite to start the season at point guard. While Danny Ainge noted that Jordan Crawford and Phil Pressey were also on the ball-handling depth chart, Stevens said Wednesday, "I think we're preparing all of these guys to be able to play major minutes at the point. Whoever starts, that works itself out. I would say Avery, certainly, with his background, with the fact that he's had good success here, the fact that he can change a game defensively, certainly he's got a great opportunity to [start]."
* Regardless of who starts, this will be ball-handler by committee: One thing that both the potential point guards and Stevens have stressed the past two days is that an up-tempo philosophy could initially leave the rebounder pushing the ball up the floor and Boston will use different players to get into their offensive sets. Said Stevens of utilizing multiple players to bring the ball up, "I think it plays into our strengths a little bit better. Certainly when you've got a guy like Rondo, you can tweak that a little bit. I still think even Rajon, if we can get him a reversal into a pick-and-roll, it puts more pressure on the defense, whether that be in transition or in the halfcourt, just because everybody is lower, and the lower you get, the more likely you are to get in the lane."
* Crawford didn't take any questionable shots on Day 1 of camp: Stevens showered Crawford with praise Wednesday and noted he was even receptive to criticism as he was put under the microscope during a film session to open Day 2 of practice. "Jordan didn't take any questionable shots [on Tuesday], he only took good ones," said Stevens. "He's a good ball-handler. He's not a nice feel for the game, passing the ball. And he is, all the last four weeks that he's been in town and working individually and playing yesterday, he's been nothing but the consummate teammate. He's been very easy to coach. We showed a video edit today and he was the first clip. He went out and made a small adjustment. That's how you get better. You don't take those things personal. You just go and you go to work." Pressed on if Crawford can help at the point, Stevens added, "I just think he's going to have to play because he can score the basketball and pass the basketball and he can play off pick-and-roll. There's three real positives right there. Whether he's at the point or wherever, he's going to have opportunities."
* Pressey had as good a day as any guard on Day 1 of camp: 'Tis the season for unbridled optimism and Stevens pumped up his rookie guard a bit on Wednesday while spotlighting his early impact in camp. "He's a guy that can get you into offense," said Stevens. "He's a guy that can play pick-and-roll. And he's done as good a job of anybody thus far of directing the ball on defense. He's got a good pulse on it. Phil is a rookie with a chip on his shoulder because he wasn't drafted. And he's a rookie with an extensive NBA background because he lived in a house of an NBA assistant coach his whole life."
* It's a competition, but a friendly one: Bradley isn't viewing Crawford and Pressey as competition for the point guard role. No, he sees the trio as teammates trying to bridge the gap until Rondo is back on the floor. "[Pressey and Crawford] are very good players," said Bradley. "We've all been helping each other. We're all young guards. We're a team, we all want to see each other do well. So whenever we can help each other out, we try to." Bradley had high praise for Pressey as well, noting, "He's been playing very well, shooting the ball well. He's been open to learning, we've all been helping him out. He just continues to improve. [Day 1], it was a little fast; [Day 2] he slowed down and he was executing the plays perfectly." Whenever Rondo is healthy, it should allow Bradley to slide back to shooting guard, while leaving Crawford and Pressey to compete for backup minutes.
* But that doesn't mean Bradley will take it easy on them: Bradley smiled when a reporter asked if he might unleash some of his trademark hounding defense to test Pressey's NBA ball-handling. "They are my teammates and I want to see them get better," said Bradley. "If I can pressure him on defense, and tighten up his ball-handling, that's what I'm going to do."