NEWPORT, R.I. -- Boston Celtics practices over the first two days of training camp have, not surprisingly, been noticeably quieter than usual. Take Kevin Garnett off the stage and the rock concert becomes an opera.
But Garnett's reverb lingers here as reporters have frequently asked these new-look Celtics how the team will possibly replace Garnett's vocal presence that anchored Boston's defense over the past six seasons.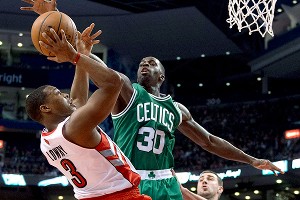 AP photo/Frank Gunn
Brandon Bass has posted outstanding individual defensive numbers during his two years in Boston.Celtics president of basketball operations Danny Ainge just chuckled at one such query and said, "Oh, boy. That may take another decade to find that." Ainge then noted that Avery Bradley is the team's best returning individual defender and said others would have to feed off Bradley's intensity.
Fortunately for Ainge, Bradley had a solution for replacing KG's wall of sound: Crank up the (Brandon) Bass.
"[Bass is] a great defender, believe it or not," said Bradley, a member of the NBA's all-defensive second team last season. "He picked up a lot of stuff from KG and he helps everybody out. He's like the vet for the bigs and he's been talking them through everything [early in camp]."
During his two seasons in Boston, advanced statistics suggest Bass truly has been a spectacular individual defender. Consider these defensive numbers logged by Synergy Sports: Bass allowed 0.673 points per play during the 2011-12 season, ranking him second in the NBA (three spots ahead of Garnett at 0.694 ppp) among players with at least 200 possessions defended. Last season, despite a fluctuating role, Bass allowed 0.756 points per play, ranking fifth among players with at least 500 possessions defended (five spots in front of Garnett at 0.765).
Now, that's not to say Bass was more important than Garnett, whose own number was likely hurt by his desire to contest anything near him, often covering for teammates' missed rotations. But Bass was tasked with covering bigger power forwards and centers much of the season -- then some of the league's top small forwards in the playoffs -- over the past two seasons and has answered the challenge each time.