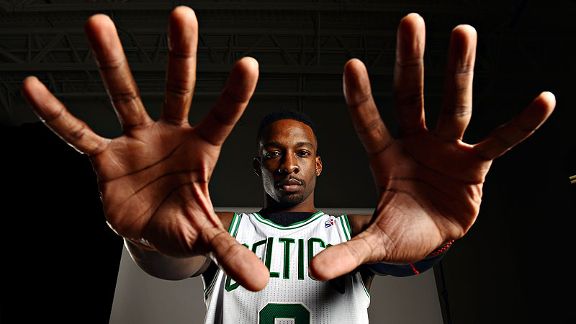 Brian Babineau/NBAE/Getty Images
The fate of Boston's offense is in Jeff Green's hands.Grantland put together an All-Intriguing team and Jeff Green is the starting small forward:
Green gets the small forward slot, since Boston has a bunch of bigs who need minutes — Brandon Bass, Kris Humphries, Kelly Olynyk, Jared Sullinger, Vitor Faverani (don't laugh, the C's like him!) — and a wing in Gerald Wallace who probably works better than Green as a small-ball power forward.

Green split his minutes between the forward positions last season, and he looked good on offense spotting up around pick-and-rolls or bulling his way to the rim on drives with the floor spread. He nailed 46 percent of his corner 3s, a killer mark, and he was able to spot up for a lot of those even as the small forward in traditional lineups, in part because of all the focus Paul Pierce, Kevin Garnett, and Rajon Rondo drew. Teams even left him open in the strongside corner, usually a no-no, because they were so concerned about actions involving two of those three stars.

Everything changes now. Green will have to work harder for shots, but he'll also get to work differently. Boston rarely allowed Green to run pick-and-rolls, or even to catch the ball flying off screens and going to his right — where Green almost always goes. Almost all his dribble drives had high degrees of difficulty — isolation attacks after sets designed for other Celtics went nowhere. And Green, with his rare combination of size and speed, did well driving past bigger defenders and right through smaller ones.

We'll see some of that this season, and more of Boston working Green in the post against shorter wing players — a hit-or-miss proposition. But we'll also see if Green can adapt to more involved modes of offense, and if he can progress as a defender outside of one-on-one situations. Green has some trade cachet, despite what is still an above-market contract.
Hop HERE to read the full story.