NEWPORT, R.I. -- Training camp is a magical time of year filled with unbridled and unapologetic optimism. It's when league doormats can gush about playoff desires and coaches shower players with praise from closed-door workouts before game action can reveal lingering flaws (remember Jermaine O'Neal: 2011 camp MVP?).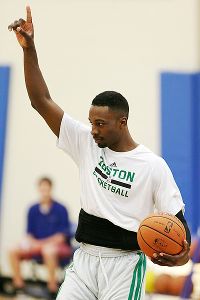 AP Photo/Charles Krupa
Jeff Green's great spirits in training camp match the great expectations he faces this season.New Boston Celtics coach Brad Stevens has been liberal with his praise this week. Jordan Crawford hadn't taken any bad shots at one point; undrafted rookie Phil Pressey was one of the best guards on the floor at another. These things might very well be true, but the point is that it's harder to make a bad impression than a good one this time of year.
Which is why eyebrows shot skyward a bit when Stevens was asked Thursday to critique what he's seen from Jeff Green.
"Jeff has had his ups and downs," started Stevens.
Ups and downs?! That's about as scathing as it gets this time of year. When reporters relayed this bit of info to Green, even he feigned a bit of shock.
"Me!? Ah, dammit," he playfully sighed.
This is simply your classic case of heightened expectations. Last week we told you about how Green has a gigantic target on his back this season and, especially early in the season while Rajon Rondo is finishing his rehab, Green is supremely important to Boston's ability to keep its head above water.