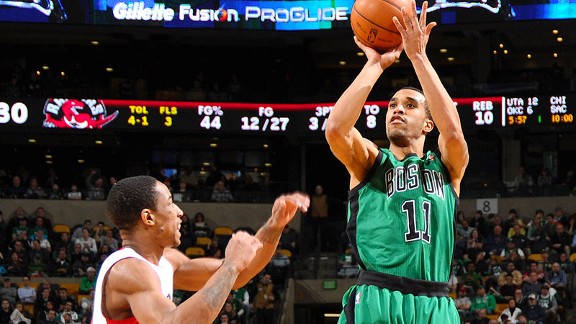 Brian Babineau/NBAE/Getty Images
Courtney Lee and the Celtics host the Raptors on Monday night.The Boston Celtics open exhibition play on Monday evening with a visit from the Toronto Raptors (7:30 p.m., CSN). Here's what to watch for:


* STEVENS' DEBUT: There will be a whole lot of freshness about the players on the floor for Monday's game, the first one for Boston in the post-Garnett/Pierce era. But many eyes will be on the sideline where Brad Stevens will make his NBA coaching debut after signing a six-year, $22 million contract this offseason. No one is expecting a large departure from his cool-and-calm demeanor at Butler, but even he's admitted he's still learning the intricacies of the NBA game. We'll also get an early read on the style of play we can expect from this team.
* LINEUP LOTTO: Stevens wouldn't tip his hand about a starting 5 and suggested he's still rolling a couple combinations around in his head. The best guess here: Avery Bradley, Jordan Crawford, Jeff Green, Brandon Bass and Kris Humphries. This was one first-unit grouping at the end of practice on Sunday. Now, our guess could be way off and Stevens said not to read too much into lineups early on. He'll mix and match with a goal of pairing complementary players around the team's more "central" figures (like Bradley and Green). But maybe we see the Jared Sullinger/Kelly Olynyk frontcourt as an early sub, along with the likes of Gerald Wallace, creating interesting combos with the starters that remain on the floor.
* FIRST LOOK AT FAVERANI: The cloak should come off the International Man of Mystery. One of Boston's only offseason splurges (they imported the Brazilian big man on a three-year, $6.3 million contract using a portion of the non-taxpayer midlevel exception), we'll get our look at maybe the only pure center on the Celtics' roster. Is Faverani, who said on Media Day he likes to "fight," ready to handle the physicality of the NBA level? Teammates have gushed about his shooting range and ability to run the floor. We'll get our first in-game glimpse on Monday.
* SO MANY QUESTIONS TO BE ANSWERED: How does Jared Sullinger look eight months after back surgery? Even he admits that his conditioning is not where it needs to be. How do the Brooklyn imports like Gerald Wallace, Kris Humphries, and MarShon Brooks look with their new team? How does Phil Pressey handle his first NBA game after being signed as an undrafted rookie? Will Kelly Olynyk look as polished as he did this summer? Will any of the camp invites -- Chris Babb, Damen Bell-Holter, Kammron Taylor, and DeShawn Sims -- make a statement with their floor time? How does Avery Bradley look after his first uninterrupted offseason of his career and can he handle the point guard duties in Rajon Rondo's absence? How does Rondo lead from the sideline while recovering from ACL surgery? Can Jeff Green carry over his play from the end of last season? None of these questions will be answered alone on Monday night, but it'll start the process.