BOSTON -- Jared Sullinger has stressed that his conditioning is nowhere near where he would like it to be and that much of the preseason would be spent trying to knock off rust and get back in shape. His initial comments last week were disconcerting enough to make reporters wonder if he would even be ready for game action when the regular season tipped off on Oct. 30.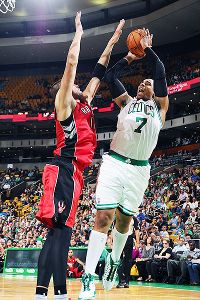 Brian Babineau/NBAE/Getty
Jared Sullinger gets up a shot against the Raptors on Monday night.No, it turns out Sullinger was ready for opening night ... of the exhibition season.
Despite all that rust he wants to shake off from not playing in a game in eight months, and all those extra pounds he yearns to shed, Sullinger starred in Boston's exhibition opener on Monday as he finished with 14 points, six rebounds, four assists over 20 minutes in a 97-89 loss to the Toronto Raptors at TD Garden.
The Celtics thrived when Sullinger was on the floor -- particularly when he was flanked by rookie Kelly Olynyk and veteran forward Gerald Wallace, a reserve combination that new coach Brad Stevens had gushed about leading up to the game -- and that was reflected in Sullinger's team-best plus-9 in plus/minus.
Asked if he was surprised by his play, even Sullinger admitted, "Very [surprised]. I honestly thought it was the adrenaline taking over and finally being able to put on a Celtic uniform and getting back out there."
One person who wasn't surprised? His coach.
"No, because he's good," said Stevens. "He's a good player. And he's a guy that, even though he's undersized, you want to throw him the ball in the post because he can pass off of cuts and he can make plays, and he's just a big body down there. I thought his wind got him a little bit at times, but for the most part, I thought he played a pretty good 20 minutes for us."
Sullinger has stressed that his back is 100 percent healthy after rehabbing from the February surgery that curtailed his rookie season after 45 games. But Sullinger even joked before the game that his weight total at the moment was "confidential" and that he was eager to get in better shape to aid his performance on the floor.
Imagine what he's capable of when he's confident in his conditioning.
Coming off the bench, Sullinger connected on 5-of-11 shots, with all five of his buckets coming near the rim. While he gives up size around the basket, Sullinger showcased that slick offensive repertoire that helped him ascend to a starting role before his back flared last season.
Sullinger's night included a couple of nifty hook shots, a reverse layup, and a putback. His efforts helped Boston erase an early 12-point deficit and make things competitive again.
Sullinger worked well with Wallace (team-high 16 points) and Olynyk (team-high 5 assists) while sparking the second unit.
"Very unselfish players," Sullinger said of Olynyk and Wallace. "Honestly, everybody is very unselfish. They're just always moving, Kelly and Gerald. I don't know about myself. I don't know if I'll be moving like them. They're constantly moving and they're open, so it's easy to find them."
Most importantly with Sullinger, there was no hesitation. He had stressed recently that he was mentally beyond his injury, but it's not until you watch him give up his body -- like a car-crash caliber fourth-quarter blocking foul he drew that should have been a charge on Tyler Hansbrough in transition -- that you believe him.
"I've been taking charges," said Sullinger. "I've been getting hit by Kris Humphries the whole time in practice. So if I can take a charge on Kris Humphries, a lot of these charges don't mean a lot to me."
Sullinger's six rebounds were a team high (and four of them came on the offensive glass). He knows the team must improve there, especially with the amount of size the team is giving up while playing without much pure size at the center position.
"We've got to [rebound as] a group," said Sullinger. "We've got to be a rebounding group. Honestly, they were not missing. If you look, they had a lot of turnovers as well. That kind of cut down possessions. We can get better. It's always been a fault of ours. And we're just going to try to get better."
Sullinger desires to get better, too, but he showed his body is in better shape than he let on so far.