WALTHAM, Mass. -- The Boston Celtics could be short two guards for Wednesday's preseason tilt against the New York Knicks as Jordan Crawford and MarShon Brooks both departed Tuesday's practice session early.
Crawford was excused for a death in the family, while Brooks developed a headache in the middle of practice and was advised to take the rest of the day off. Celtics coach Brad Stevens said that the absences should open the door for others, including undrafted rookie point guard Phil Pressey, who did not play in Monday's exhibition opener.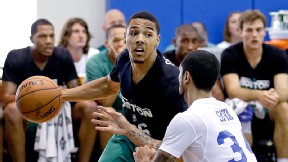 AP Photo/John Raoux
Phil Pressey will get his first game action since summer on Wednesday night against the Knicks."We're going to have other guys play a lot," Stevens said. "We're going to be without Jordan. Jordan had a death in his family and had to go home, so we're all thinking about him and praying for him. He just left at the end of practice, so he will not be there tomorrow."
As for Brooks, who played only 2:27 in his Boston debut on Monday, Stevens noted, "MarShon got a headache in the middle of practice. He met with [trainer] Ed [Lacerte], and Ed thought it was best that he go home. I don't know [the prognosis] long term, but he was here at the start [of practice]."
Stevens said the lineups will be more scripted for Wednesday's game in Providence, but that Pressey would be a big part of the game plan at the point guard spot.
"You'll see a lot more of Phil Pressey, which is good," Stevens said. "I'm really looking forward to that. I think he's done a great job. I knew that prior to last night's game. That's why I didn't play Phil last night and played Jordan a couple more minutes. So that was the point behind that. We'll still mix and match a little bit, but I thought that we did find some good combinations."
One other bit of injury news: Avery Bradley sported a large wrap over his left hand after practice, but downplayed the protection. He injured the index finger on his left hand in camp and has had it wrapped for most of the preseason and is simply taking all precautions. Bradley topped the team in minutes on Monday night and expects another heavy workload on Wednesday.
"[Bradley] hasn't said a word about it to me," Stevens said. "He hasn't found it to be debilitating, so I think he's playing through whatever pain he's got. I know he had an X-ray and everything was negative last week."
Read on for practice notes, including more on Pressey as he prepares for his first game activity in Boston and Stevens reviews the film from Monday's loss to the Raptors:
PRESSEY READY TO GO
Pressey engaged in a half-hour post-practice shooting session and was the final player off the court. He's eager to showcase his abilities on both ends of the floor.
"I just try to go out there and defend the ball well and try to change the pace of the game on defense," Pressey said. "Offensively, I know I can pass and create for others, but I'm going to try to change the game on the defensive end."
Pressey noted that playing heavy minutes in college, he couldn't sustain the on-the-ball impact he desired. But knowing that time could come in bite-sized chunks in his rookie season, he's eager to show he can be a menace to opposing ball-handlers.
"In college, I played 35-40 minutes per game, so I tended to back off guys a little bit," he said. "I'm going to try to come out here and pressure guys like I did -- like my freshman year [at Missouri] I did that a lot. I'm going to try to come out here and try to bring it to the game tomorrow."
Being hounded by the likes of Bradley in practice, and having a nice little practice rivalry with Crawford, ought to help Pressey.
"The good thing about those guys, they bring it every day, so in practice we are competing," he said. "It's tough out there. You can't take a play off. Jordan wants to compete every single play and win every single drill. We're going at it, the same thing with Avery. Those guys are just helping me get better and the harder we practice, the easier games are going to be."
It also doesn't hurt to have Rajon Rondo in his ear while the All-Star point guard rehabs from ACL surgery. Pressey just happens to be sandwiched between Bradley and Rondo in the TD Garden locker room. He said he didn't chose that spot on purpose, but that it's a quality seat for a young point guard to have.
FILM REVIEW CONFIRMS WHAT STEVENS SAW
Stevens had said he planned to watch the tape of Monday's exhibition opener immediately after the game and noted that what he saw in film review didn't differ much from what his eyes told him on the floor.
"We can get a lot better defensively in what we're trying to do," he said. "Some of those things are very correctable. And then I think we can get a lot better on the glass. We're just going to have to do it more by committee than individually
"Offensively, I thought we had times during the game where we really moved the ball and got great looks, and then we had times where we got a little stagnant -- again, very correctable; getting used to one another, getting used to a new coaching staff, new system. I took a lot more positives than negatives from it."