WALTHAM, Mass. -- Poor Drew Cannon.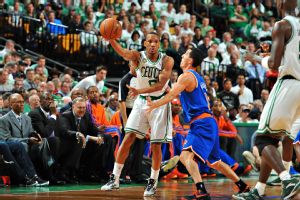 Brian Babineau/NBAE/Getty Images
Celtics guard Avery Bradley looks to pass last season against the Knicks.Boston Celtics coach Brad Stevens brought his former Butler numbers guru to town to help with statistical analysis. One of Cannon's early tasks: Track hockey assists. In practice.
What are hockey assists? It's an advanced hoops stat that spotlights the player who assists the player who assists a made field goal. In hockey, a second assist is often credited on goals, but it's fairly easy to track when a typical game features only a handful of scoring plays. In basketball, where the Celtics, for instance, averaged 37 made field goals per game last season (61.4 percent of which were assisted), it's a far more daunting chore that often requires video review to truly track with accuracy.
But even at a time when point guard play is top notch across the league, there's a renewed emphasis on ball movement and stat-friendly teams are trying to reward those players whose efforts have long gone ignored.
Technology such as 3-D camera tracking by STATS LLC will make it easier to chart hockey assists during game action, especially with those cameras being installed in every arena across the league this season. But poor Cannon still is going to have to be particularly alert during 5-on-5 drills at Celtics practice.
"I've tracked it before in my career because I've coached for a lot of teams that didn't have what you would consider to be a pure point guard," Stevens said. "And I think it is important when you're trying to emphasize the extra pass, and you're only focused on assists, then you're not giving any credit to the guy who created the play. So we do track that [and] we will start tracking it more.
"I actually talked to Drew a few days ago about trying to track it in practice more as something we can put up and encourage. Unselfishness is a strength of this group."
Even by conventional metrics, the Celtics had a strong playmaking season debut on Monday. Boston registered 25 assists on 33 field goals (75.8 percent). As Stevens noted, "Percentage-wise, [that's as] high as it gets."
Nine players finished with at least one assist and seven of those had multiple assists, including rookie Kelly Olynyk with a team-high five assists. Late in the game, you can see the value of the hockey assist, whether it's the initial pass to start the Celtics in transition or perimeter ball movement leading to an open corner 3-pointer.
Avery Bradley, who is penciled in as the team's starting point guard without Rondo, finished with just three assists, but Stevens said after the game that film review would probably turn up instances of hockey assists. Sure enough, Boston's ball-handlers -- most notably Bradley and Jordan Crawford -- did a nice job starting the ball movement that led to perimeter jumpers.
"It's not always a home run pass, sometimes you make a pass to set up the score," Bradley said. "So that's how I think of it because I can't make the passes Rondo can make. So I just try to make the simple pass so it can lead to a bucket."
The Celtics are no strangers to the hockey assist. When the team lost Rondo to an ACL tear last January, coach Doc Rivers hammered home the importance of ball movement and emphasized the notion that the hockey assist would help mask the absence of a pure point guard to run the offense.
"[Rivers] stressed that a lot, especially with me," Bradley said, "because being a young guy, you want to make the home run play every single play. You have to take what the defense gives you, and that's my approach."
Asked if he liked how the team shared the ball on Monday night, Bradley smiled wide and offered, "I loved it. It's hard to beat teams that share the ball like that."
Those who have investigated the hockey assist often find a correlation with hockey assists leading to more 3-point field goals. Stevens said you just need look at Boston's next opponent -- the New York Knicks -- as an example of a team that generates a lot of 3-point opportunities from unselfish ball movement on the perimeter.
"I don't want to call it new, but we're all trending toward skilled lineups, right?" Stevens said. "And you have the four around one, off of the spread pick-and-rolls and nobody does that better than the New York Knicks. What happens is, you can get to the first guy, but you can't always get to the second. And that's where the Knicks put you in such a predicament with the lineups they put on the floor."
Would Stevens like to see his team utilize a similar philosophy, particularly while Rondo is rehabbing?
"There are a lot of teams that play that spread," Stevens said. "Obviously, there's a couple of teams that have really made that who they are. I'd like to play that way certainly in transition, but it just depends who's on the floor and how much people are going to help off who."
If Boston's bigs -- such as Olynyk -- can help stretch the floor and Boston can get corner shooters such as Bradley, Courtney Lee and Keith Bogans to consistently knock down those shots, the Celtics will find success with the hockey assist.
And it doesn't take a Canadian to know the benefit of a hockey assist, even if north-of-the-border native Olynyk clearly does.
"That's just team basketball, that's basically what it is," he said. "A lot of people say a lot of stuff goes uncharted and un-stat-ed, but that's the little stuff that makes a team win."
[Additional reading: The Miami Heat and the hockey assist.]