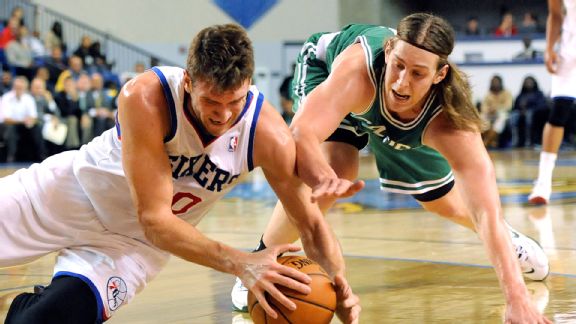 AP Photo/Steve Ruark
Kelly Olynyk and Spencer Hawes scramble for a loose ball during Friday's game.Rapid reaction after the Philadelphia 76ers defeated the Boston Celtics 97-85 on Friday night at the Carpenter Center on the campus of the University of Delaware:


THE NITTY GRITTY
Keeping with the preseason trend, the Celtics dug themselves a double-digit deficit (as high as 18) but made a fourth-quarter surge. Even the late run, which saw Boston make it a two-possession game with little more than five minutes to play, couldn't mask what was an unsightly performance overall by the Celtics. It didn't help that it came against an expected cellar-dweller that had spent the first part of the preseason on a European adventure. Boston's Jared Sullinger scored a team-high 19 points on 7-of-15 shooting with nine rebounds over 23:14. Sullinger was a team-best plus-10 in plus/minus, one of the few on the positive side. Michael Carter-Williams scored a game-high 21 points with six rebounds and six assists over 30 minutes, while Spencer Hawes was his usual pest self (17 points, 7 rebounds) to pace the 76ers.
THE GOOD
Ummm ... well ... Brandon Bass had 10 rebounds in 25 minutes (including five on the offensive glass). ... Boston continues to share the ball well when it does generate field goals, with 21 assists on 31 buckets. ... Phil Pressey had another positive outing, handing out five assists over 18 minutes and adding six points, four rebounds and two assists. ... Damen Bell-Holter and Kammron Taylor made their preseason debuts, playing the final 1:16 (along with fellow training camp invites Chris Babb and DeShawn Sims).
THE BAD
Another lackluster outing for Jeff Green, who finished with four points on 2-of-11 shooting over 20 minutes. Green was a team-worst minus-16 (matched by Courtney Lee). ... Keith Bogans suffered a right thumb sprain in the first half and did not return after the intermission. ... Boston got beat up on the glass 54-43. ... The 76ers turned the ball over a whopping 25 times, but Boston turned it into a mere 16 points. ... By comparison, Philadelphia turned 18 Boston turnovers into 20 points. ... MarShon Brooks logged a DNP -- Coach's Decision.
WHAT'S NEXT
The Celtics close out their first back-to-back of the 2013-14 campaign when they meet the New York Knicks on Saturday night in Manchester, N.H. That will close a busy stretch featuring four games in six days. There are only two games on the schedule next week, but it's another back-to-back with trips to Brooklyn and Toronto.