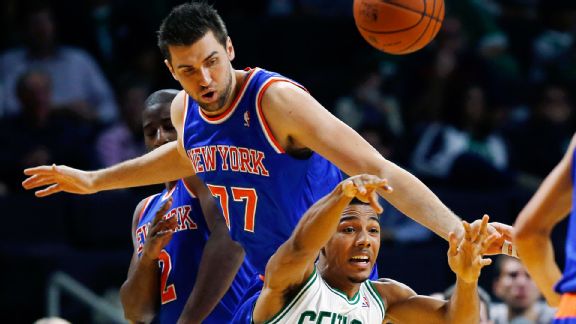 AP Photo/Elise Amendola
Can Phil Pressey spark the Celtics against the Knicks again on Saturday?The Boston Celtics close out a preseason back-to-back by jousting with the New York Knicks at the Verizon Wireless Arena in Manchester, N.H., on Saturday night (7:30 p.m., CSN). Here's what to watch for:


* HOW WILL C'S BOUNCE BACK? The Celtics are coming off a rather atrocious performance in a loss to the Philadelphia 76ers on Friday night in Delaware. Said coach Brad Stevens after that game: "Any time you don't have maximum effort, it's disappointing. But it's the reality of basketball, sometimes you don't have it and you have to be better the next day. I think that will be very telltale, how we show up [Saturday]." Boston is 0-3 this postseason and the win-loss record won't dictate the success of the Celtics' exhibition slate. But after making progress between the first two games of the preseason, the team took a clear step back on Friday.
* FEELING GREEN: It's still very early in the preseason, but some are already overreacting to Jeff Green's quiet start. Green finished 2-of-11 shooting for four points in Friday's loss to Philadelphia. What's more, only one of his attempts came at the rim, suggesting a player who's having trouble being as aggressive as he might like. Pegged as the go-to guy this season, particularly in the absence of Rajon Rondo, Green could get his critics off his back with a more assertive effort against the same team he feasted on last postseason.
* STRONG AT THE START: The Celtics have dug themselves early holes in all three preseason games. Stevens noted that the team has struggled at the start of as many as five of the six halves they've played. "We have to start better," he said. Stevens thought Philadelphia set the tone on Friday and Boston has yet to do that in the first and third quarters of any game it has played.
* LINEUP IN FOCUS: Looking for that better start, it will be interesting to see how the Celtics shuffle their starting lineup. One thing is clear: The Jared Sullinger-Gerald Wallace tandem has been the team's best early-season combo. Might Stevens consider going with a smaller lineup early, maybe pairing Green and Wallace together with Sullinger at the center spot? This is the time to experiment and with Wallace being the best player on the floor for the Celtics so far this preseason, maybe that could ease some of the pressure on Green. Another lineup combo we'd like to see: Avery Bradley and Phil Pressey together in the backcourt.