Jeff Green is under an intense microscope this season. With the departure of Paul Pierce and Kevin Garnett, and with Rajon Rondo rehabbing from ACL surgery, Green has ascended to being the focal point of Boston's offense, and while he didn't ask for the target that comes with that crown, he said before the season that it's a challenge he accepts with a chance to cement himself as an emerging star in this league.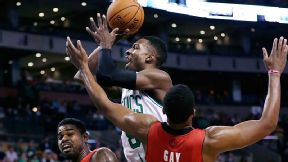 AP Photo/Charles Krupa
Jeff Green needs to be more aggressive going at the basket to break out of his preseason funk.But with half of Boston's eight-game preseason slate complete, here's the brutal truth: Green has not played anywhere near the level expected of him.
Maybe it's a shooting slump or perhaps he's still getting comfortable with a new-look roster, a first-year coach and new schemes on both ends of the floor. Coach Brad Stevens loaded up Green's plate like he was on a trip to Old Country Buffet, but has since said he might have to scrape off some of that food as Green attempts to learn three positions. Regardless of the reason, the production just isn't there and the spotlight and scrutiny is now blazing on King Green.
The basic metrics are meager enough as Green is averaging 7.8 points, 1.8 assists, 1.5 rebounds and 1 block over 23.3 minutes per game. Dive into the advanced stats and it gets worse as Green is averaging a dismal 0.633 points per possession, according to Synergy Sports data. That ranks him in the 20th percentile among all NBA players this preseason (and worst among the Celtics' regulars). What's more, of players with at least 40 possessions in the exhibition season, Green ranks 36th out of 38 qualifiers (ahead of only Ricky Rubio and Kentavious Caldwell-Pope entering Sunday's action).
The trouble won't surprise you. Green has lacked the aggressiveness that fueled his second-half breakout last season. While he says he still hears Garnett imploring him to be the expletive version of a derrière, Green often has played like someone who prefers to shuffle around the perimeter and take easy jumpers.
Despite Green's lack of production, Stevens has offered steady support and suggested it's too early to read too much into his struggles. Before Saturday's win over the well-rested Knicks, Stevens said of Green, "I think one of the things that, any time you've got a guy that is struggling at all, it's easy to say that there's an individual and just changing the individual is going to make a difference. I don't think that's the case. It's too early a sample size to figure out if that's legitimate."
But Stevens did admit that he'd like to see Green be a bit more aggressive, adding, "At the same time, I think [Green] would be the first to tell you that making more shots is helpful. And I think that will start with a couple of paint makes -- getting into the paint, posting up, getting in transition, getting an and-1, getting an offensive rebound -- doing something that is a difficult thing to do but is an easier finish. That usually opens the floodgates for making jump shots."
Green missed nine of the 12 shots he put up on Saturday night, logging 11 points, 3 assists and 1 rebound over 29:20. He finished a team-best plus-24 in plus/minus, easing some of the sting of another poor offensive performance, and Stevens reasoned that he missed better shots than in recent outings. That's somewhat true, but half of Green's attempts still came beyond the 3-point arc and he had only one shot near the rim (which he missed).
Let's take a moment to emphasize just how Green has performed at each of those "difficult" tasks that Stevens mentioned could get him going (with help from Synergy data):
* Getting into the paint: Green has only six field goal attempts around the basket (non-post-up variety). He's missed four of those six shots. Getting in the paint should also increase the likelihood of getting fouled, but Green has generated just two shooting fouls of the 49 total offensive possessions he's finished.
* Posting up: Green is credited with seven post-up possessions through four games, generating seven points total out of that play type. That's actually an excellent number, albeit in a small sample, and suggests that Green needs to be exploiting his height and athleticism against undersized wings more often.
* Getting in transition: Green has only six transition possessions this preseason. That's a meager number on its own (consider that MarShon Brooks has seven transition plays in 56 fewer minutes of floor time). What's more, Green is averaging just 0.333 points per play in transition, an abysmal number as he has converted just one of four shots, drawn no fouls and turned the ball over twice. Running the floor is where Green needs to thrive most for Boston to be a serviceable offense without Rondo.
* Getting an and-1: Green's only and-1 of the preseason came Saturday night when Iman Shumpert got whistled for fouling him on a baseline make out of a post-up situation (Green missed his next four shots, including three from 3-point range). Kelly Olynyk and Jared Sullinger each have three and-1s this preseason for Boston. Just getting to the line would be a good start for Green, who has attempted just five free throws. (By comparison, diminutive rookie point guard Phil Pressey has shot more than twice as many freebies -- 11 overall -- in 27 fewer minutes of court time.)
* Getting an offensive rebound: Green has a mere six total rebounds this preseason (six!) And zero (zero!) have been on the offensive glass. Rebounding has never been a strength, but that's unacceptable on a Boston team lacking size.
One way or another, Green has to generate more opportunities around the basket. He'll generate corner 3-point opportunities through the flow of a ball-movement fueled half-court offense, but he needs to live inside of five feet to be truly efficient offensively. He's got to roll up his sleeves and get dirty. Here's Green's heat map from the 2012-13 season, courtesy of Basketball Reference, to hammer home how he thrives near the basket:
Listen, the goal here is not to pile on Green. His outside shots might start falling and maybe it'll mask some of his preseason struggles to this point. But he absolutely has to be more aggressive. As Stevens hinted, Green has to do something difficult to get himself going. It's time to put on the hard hat. This isn't going to be easy.