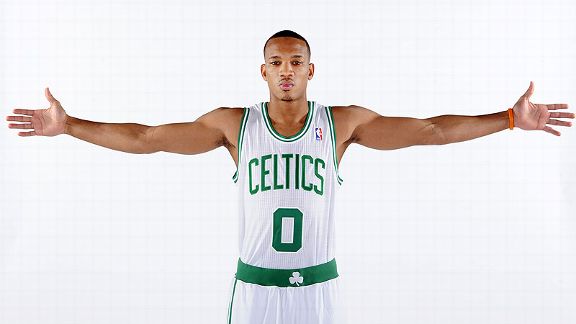 Brian Babineau/NBAE/Getty Images
The Celtics plan to get creative with how they utilize Avery Bradley on defense.NEW YORK -- Opposing point guards might catch a slight break this season. The Boston Celtics plan to utilize Avery Bradley's hounding defense like a football team might operate with a shutdown cornerback.
For the second straight game, the Celtics started Bradley defending the opposing team's shooting guard (this time Joe Johnson) in hopes that sacrificing some on-ball pressure would allow Bradley to negate a bigger scoring threat. Despite being shifted outside his comfort zone, Bradley is embracing the idea of matching up against the other team's top offensive guard.
"I love to take that challenge," Bradley said. "I love the competition."
Added Bradley, "I was always on the ball last year, so I could get time off the shot clock. But this year they want me to calm down a little bit more, not be so restless on defense, I guess you can say, going for steals. They want me to be disciplined and pick my spots every now and then, pick up full court [occasionally], but get back and play angles. They are just trying to make me into a great team defender, as well as an individual defender."
Bradley landed on the NBA's All-Defensive second team last season while fortifying his reputation as one of the league's most tenacious on-ball defenders. According to individual defensive statistics logged by Synergy Sports, Bradley limited opponents to 0.697 points per play last season, the lowest in the league among those with at least 475 total defensive possessions. Opponents shot just 30.8 percent against Bradley and scored just 31.8 percent of the time (also a league low using that 475 possession total).
How has Bradley fared working off the ball?
Knicks rookie Tim Hardaway Jr., a 6-foot-6 shooting guard, had given Boston fits in the teams' first preseason meeting last week and, with New York resting its star players during a rematch on Saturday, Stevens decided to have Bradley chase Hardaway. According to Synergy Sports data, Hardaway missed all four shots he took while defended by Bradley, turned the ball over once, and his only success was drawing a (questionable) foul call on a baseline jumper (one that hit the side of the backboard). Hardaway had a team-high 16 points on 6-of-10 shooting in New York's win, but finished with only nine points on 3-of-16 shooting in Boston's triumph.
A glimpse of Bradley Island?
"I think it's interesting, what people think Avery is really good at is true -- picking the ball up [full]court -- but he can be really, really good off the ball," coach Brad Stevens said. "That's where we think we can get even better is off the ball. The other day, we did not start him on the point, we started him on Hardaway, and Hardaway had killed us in the first game and [Bradley] was really good on him. That's another thought of mixing and matching, and taking guys' strengths and trying to make your team the best it can be."
Bradley admits that it will take some time to adjust to playing off the ball more.
"At times I found myself trying to pick up full court and you see coach [motioning and saying,] 'Get back!'" Bradley said. "It's weird, but at the same time it makes me disciplined. I didn't go for steals, I was just being smarter on the defensive end and that helps our team out a lot."
And he welcomes the chance to throw cold water on a hot shooter.
"I love it. This is what I play this game for," Bradley said. "Going up against great players every single night, going up against that challenge. Even tonight, guarding Joe Johnson, who's a great player, I love it, it's fun."
Read on for more notes, including a Butler bus mishap during Stevens' first trip to Barclays, Keith Bogans' simple exercise that will tell he's ready to return, and Jeff Green's acknowledgement that he needs to be more aggressive to get out of his offensive funk.
BUTLER BUS + BARCLAYS = BAD MEMORIES
Forgive Stevens if the Barclays Center doesn't inspire particularly fond memories.
While Tuesday's tilt with the Nets was his first NBA game in this arena, he coached here in March during the Atlantic 10 men's basketball tournament. Stevens recalled Tuesday how his fifth-seeded Butler squad had just posted a satisfying quarterfinal victory over fourth-seeded La Salle and the team was feeling pretty good about itself. As the Bulldogs prepared to depart the arena, their bus encountered some mechanical issues and the team was temporarily stranded. Adding insult to injury, rival VCU's bus soon pulled into the loading docks and on the side of their ride was a picture depicting a memorable victory over the Bulldogs.
Stevens said his players took it in good spirits and actually posed next to the bus while trying to pass time until their own ride was operational.
BOGANS RETURN TIMETABLE: ONE PUSH-UP
Celtics guard Keith Bogans suffered a sprained right thumb in Friday's loss to the Philadelphia 76ers and is listed as out indefinitely. Stevens previously suggested the injury could sideline Bogans for a "couple weeks."
Bogans accompanied the team to Brooklyn and said he injured the thumb when it got caught in the jersey of a 76ers player while trying to take a charge. As for when he might return, Bogans apologized and noted he didn't have a definitive timeline. He did note that the training staff gave him a simple task to know if he's ready: One push-up.
The simple exercise will tell Bogans that his thumb has healed sufficiently.
LOOSE BALLS
* THE FINAL PLAY: Courtney Lee hit a pair of late-game 3-pointers to temporarily knot Tuesday's tilt, but he missed a 13-foot baseline jumper with a chance to force overtime and the Nets escaped with an 82-80 triumph. Asked if he liked the last play, Stevens said, "Well, we got the guy that had made a few big ones. I don't know if it was a great look, probably hard to get a seven-second great look. ... In coaching, you always think about the other things you could have done if he missed it. But to get a look, and it looked like we had a run at the rebound, it wasn't all bad." Stevens pinpointed Lee's late-game effort (he scored a team-high 14 points on 4-of-13 shooting overall) as one of the positives he'll pluck from the loss.
* NOT ENOUGH FOR GREEN: Jeff Green made strides toward ending his preseason offensive funk, scoring 12 points on 5-of-11 shooting. More importantly, he got to the rim three times for easy baskets. Asked if it helped to see a few shots go through the hoop, Green noted, "I didn't see enough go down. I didn't see enough. I can't rely on my jump shot. I've got to attack. I've got to get back in attacking mode. I've just got to continue to be aggressive." Maybe even more than his on-court performance, his recognition that he needs to attack more is the most encouraging sign that Green will emerge from his slump.