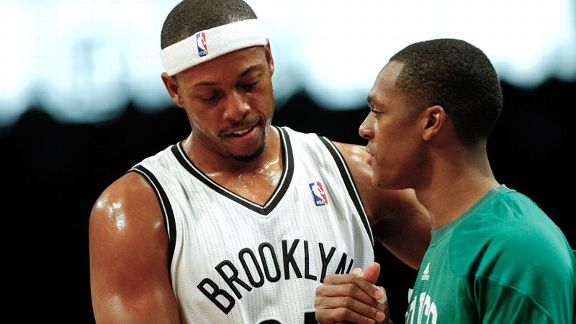 Noah K. Murray/USA TODAY Sports
Paul Pierce and Rajon Rondo catch up on the floor at the Barclays Center.NEW YORK -- Paul Pierce misses Boston.
Oh sure, he's adjusting to life in the Big Apple just fine. The traffic is as bad as advertised, but he's embracing this first bit of NBA change after 15 seasons in Boston and knows his new team has a chance to compete for the league's biggest prize. Heck, he might even be used to the sight of himself in Brooklyn's black-and-white colors.
But Pierce misses Boston. He didn't say it explicitly when the Celtics visited the Barclays Center on Tuesday, but he didn't have to. How else do you explain how Pierce has made sure to watch a couple of Boston's exhibition games (most New Englanders aren't even watching these games)? Or why he got Jeff Green's phone number and plans to communicate with him during the season to help him navigate an increased role in the absence of Pierce and Kevin Garnett?
Pierce burst into the Celtics' locker room 90 minutes before tipoff Tuesday to see old friends and ease a bit of that homesickness. He greeted Avery Bradley with a big smile and asked about the birth of his first child last month. Pierce then visited with Green and Brandon Bass and stressed the need for them to step up as locker room leaders this year. He even sought out staffers such as equipment manager John Connor and director of team security Phil Lynch to say hello.
Pierce didn't seem in any hurry to leave, either. At one point he retreated into the shower area in search of other familiar faces. When the game started, Pierce used a stoppage in play to catch up with Rajon Rondo near the Boston bench after missing him in the locker room. Then, after the game, Pierce had even started to back off his decree that he might not come to town next week for an exhibition game at TD Garden, suggesting he'll talk it over with Nets coach Jason Kidd to decide the best plan of action.
Pierce misses Boston. And though he knows his return will be an emotional night -- and one he'd probably prefer to save for the regular season -- the chance to come hang out at his old stomping grounds probably intrigues Pierce.
"It's definitely going to be a lot different when I get into the Garden, the first time I go to Boston," he said. "Because you've played your entire career there, made so many friends, so it's definitely going to be emotional. I don't know if I'm looking forward to it because I already know I'm going to shed a tear or two. But it's the business. I'm here in Brooklyn now and I wish everybody there good luck."
The business side left Pierce a little uneasy when he looked across the court Tuesday and saw his former teammates in that familiar uniform he no longer wears.
"It was a little weird looking over, seeing all the green uniforms," he said. "I'm used to lining up in the green and white for so long. But it was good to see some of the guys that I played with. I had a chance to go in the locker room and talk to a lot of the guys, wish them good luck."
On the floor, Pierce's shot wasn't falling (1-of-6, 4 points), but -- as Boston fans remember all too well -- he found a way to impact the game in other ways. Pierce grabbed a game-high 10 rebounds and handed out five assists over 27 minutes. His night had long since ended by the time reserve Chris Johnson hit a pair of freebies to lift the Nets to an 82-80 triumph.
Inside the Nets' locker room, Pierce was mobbed by reporters from both Boston and New York, ping-ponging from questions about an emotional night against his former team, to Brooklyn's prospects for competing with Miami in the East.
When a reporter asked if he was comfortable in the Nets jersey that seemed so foreign to him when he was first introduced in July, Pierce noted, "It's settled in for me. I'm here and part of this team now. I think I'm past that right now."
But Pierce still has at least one eye out on his old squad and believes the Celtics have a bright future.
"They've got a lot of good, young talent," Pierce said. "I've had a chance to watch them a couple times on TV. Obviously you see their big rookie [Kelly Olynyk]; you see [Jared] Sullinger, he's taken the next step [and] I think he's finally healthy; and then when they get Rondo back, this team has a bright future. Jeff Green, I expect him to emerge and really have a good season; Courtney Lee is comfortable out there; Avery [Bradley], it's time for him to really step up. So they have some nice pieces to build with."
They also have three of Brooklyn's future first-round draft picks from the nine-player, three-draft-pick swap that forced Pierce to bid farewell to Boston.
But Pierce can't say goodbye completely. It's why he pledged to keep in touch with Green. The two matched up on the floor Tuesday night, Celtics swingmen past and present. Pierce suggested it's time for Green and the younger core to lead, the way Pierce took Boston's young teams under his wing a decade ago.
"I think they're ready to assume that leadership position," Pierce said. "I think they've learned well, saw the things that we were able to do in Boston and they're ready to take over that role."
A role he probably misses, at least a bit. It was time to move on, but more than a little piece of Pierce will always be in Boston.